UK-based companies Alicat Workboats and Iceni Marine Services presented the newly-built Iceni Legend vessel at Seawork 2017.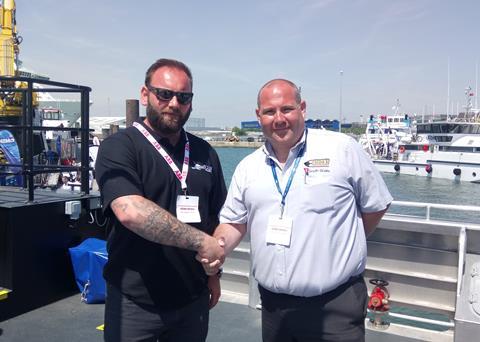 Iceni Legend is the 10th vessel that that Alicat Workboats, alongside sister company South Boats IOW, has built for Iceni Marine Services, in its Great Yarmouth, Norfolk yard.
The 23m vessel is "designed to suit the operations maintenance stages of offshore wind and will work on an offshore wind farm," said Ben Coleman, sales and marketing manager at Alicat Workboats, who attended Seawork with Richard Thurlough, director of Iceni Marine Services.
Mr Thurlough stated: "Iceni Legend forms part of a two-boat order we placed just over a year ago to build the Iceni Defender and the Iceni Legend. Both 23m, this will be the fourth one of our boats in the current design. The wheelhouse on this one was designed to suit O&M projects and (give) a little bit more crew comfort as well."
2017 marks the third year Iceni have brought a boat to the show, and Mr Thurlough stated that while the future of the Iceni Legend is a yet undecided, Iceni Marine Services hope to secure a contract for the vessel within the next few months.
Mr Coleman stated: "From Alicat's perspective we're always looking to further the relationship and work with Iceni on future projects and meet requirements as they develop their business as well as ours. The opportunity at Seawork is that one of the older vessels may be there and South Boats will gain a refit from that."
Mr Thurlough added: "We hope the partnership with Alicat continues to the foreseeable future and beyond."
Iceni Marine Services confirmed it plans to sell off some of its older assets and use the funds to build new assets and keep ahead of developments.
By Rebecca Jeffrey