Netherlands based Royal IHC has secured a contract from Belgium based DEME for the design and build of four new vessels.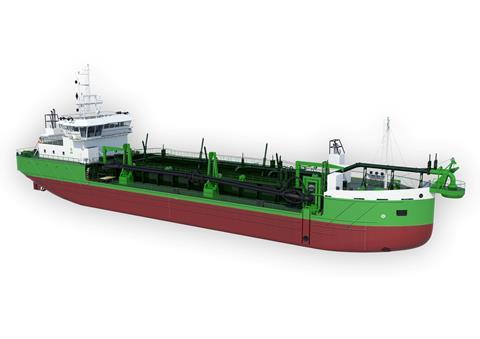 The order consists of a copy of the recently delivered 8,400 m3 capacity trailing suction hopper dredger Scheldt River, a 2,300 m3 capacity TSHD and two 3,500 m3 capacity split barges.
The Scheldt River was delivered last year and has won awards for its innovative design, including the DPC Innovation Award for the world's first LNG powered dredging vessel. It is currently nominated for the KNVTS Ship of the Year award, with the winner to be announced next month at the prestigious Maritime Awards gala in the Netherlands.
The compact design of the 2,300 m3 capacity TSHD features a shallow draught for coastal and maintenance dredging operations.
The two split barges are based on the IHC standard split trail 3,500 design. The ease and speed with which they can dispose of materials makes them attractive for use in combination with backhoe dredgers, grab dredgers or perhaps the world's most powerful cutter suction dredger Spartacus, currently being built for DEME by Royal IHC for delivery next summer.
Royal IHC's CEO Dave Vander Heyde said, "IHC is proud that DEME has ordered four highly competitive new vessels. With this order the number of trailing suction hopper dredgers in the fleet of DEME designed and built by IHC adds up to 21. The partnership with DEME has proven to be successful in the past and we are pleased to continue our partnership with them by adding more value and technical capabilities to their advanced fleet."
DEME CEO and director Alain Bernard added, "This order once again signifies our ongoing commitment to operate the most modern, versatile and environmentally friendly fleet in the industry. With our multi-year fleet investment programme we re driving new levels of performance, furher enhancing the capacity of our flet and providing our clients with flexible solutions for dredging and reclamation projects in various environments."
Meanwhile, TIE Services International SRL has delivered a year long cluster contract for Royal IHC in which the engineering and fabrication specialist for welded and machined constructions has been supplying Royal IHC with ten to 15 specially manufactured dredger components every month for the last year.
TIE is a British owned and Romanian registered company operating from a fabrication facility at Satu Mare in Romania.
By Larz Bourne