Netherlands based shipbuilder Royal IHC has launched the 7,950m3 capacity trailing suction hopper dredger ''Meuse River'' for Belgium''s DEME Group from its Krimpen aan den IJssel yard.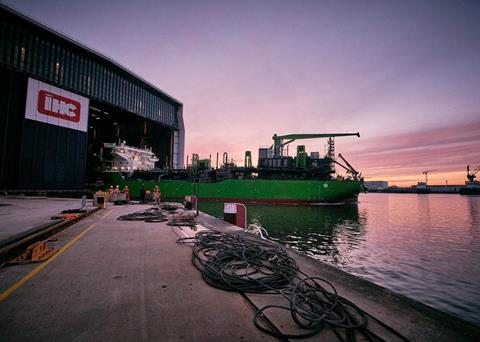 Meuse River has the same innovative design as its IHC-built sister ship Scheldt River, which joined the DEME fleet in 2017 and has since operated non-stop on waterways and access channels in Europe.
The 115.8m LOA sisters have a beam of 25m and are capable of dredging to depths of 60m. The dual fuel vessels are capable of 14 knots and can accommodate 20 people. They feature several energy smart technologies developed by DEME and IHC, such as a hybrid dredge pump drive system to reduce the effect of load variations. For automation of the dredging process, IHC developed the intelligent IHC ECO automation package, which optimises dredging performance. An IHC developed and patented two speed propulsion drive which, in contrast to a conventional single speed propulsion, ensures fuel savings when sailing at lower speeds. Another innovation is a wing shaped bow thruster tunnel. The new shape is the result of extensive hydrodynamic analysis which improves bow thruster performance.
Speaking to celebrate the launch of Meuse River, DEME CEO Luc Vandenbulcke said: "With our multi-year investment programme, we aim to operate the most technologically advanced fleet in the industry. We want to make sure our fleet is future-proofed by continually pursuing enhanced productivity and efficiency goals. Building on the success of our pioneering Scheldt River we can provide our customers with an identical, versatile and highly efficient vessel for a wide range of dredging activities."
The LNG capable Meuse River will join the DEME fleet when it is commissioned during 2020.
By Larz Bourne