Netherlands based shipbuilder Royal IHC has launched the world's largest self propelled cutter suction dredger from its yard in Krimpen aan den IJssel.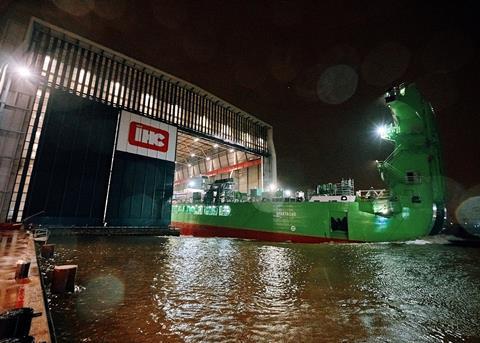 The 165m long Spartacus is the first cutter suction dredger to be powered by LNG. Its four Wartsila main engines can also run on MDO and HFO. The two Wartsila auxiliary engines also incorporate dual fuel technology.
The concept and basic design for the mega-dredger were provided in close cooperation between the owner, Belgium's DEME Group, IHC subsidiary Vuyk Engineering Rotterdam and Royal IHC itself. It follows earlier orders for LNG powered trailing suction hopper dredgers Minerva and Scheldt River and the 'LNG ready' Bonny River.
The environmentally friendly CSD has other innovations on board, including a waste heat recovery system which converts the heat from exhaust gases to electrical energy and one man operation of the dredging control. A heavy duty cutter ladder will enable the vessel to dredge to a depth of 45m when it is delivered in mid-2019.
Netherlands based electrical systems specialist Bakker Sliedrecht was responsible for the engineering, delivery and commissioning of the electrical power plant and auxiliary electrical installations for Spartacus.
The total installed power of 44,180 kW raises the stakes by some 50% over the previous most powerful CSD. This will enable the vessel to cutter harder soils at speeds which were not possible before. Spartacus is equipped the new model ABB ACS 880 liquid cooled low voltage multi-drive system, which has a very high power density, delivering a lot of power out of a small footprint. The ABB ACS 880 is maintenance friendly and compliant with future regulations.
Speaking at the launch, DEME director and CEO Alain Bernard said: "DEME's drive to innovate and focus on sustainability is reflected in the company's multi-year fleet investment programme. The new additions to the fleet are part of our continuous efforts to further increase efficiency, both in terms of production and environmental performance. Spartacus stands out because of her unrivalled power and high-tech features on board. The CSD will drive new levels of performance and provide our customers with flexible solutions for dredging projects in even the most harsh and remote environments."
IHC CEO Dave Vander Heyde added: "IHC is known for its willingness to push boundaries to develop and produce high added value equipment and vessels for our customers. The Spartacus is a perfect example of such a project."
By Larz Bourne