Norway's Hansen Protection has appointed a UK and Ireland distributor for its range of emergency immersion suits, work suits and thermal protection suits.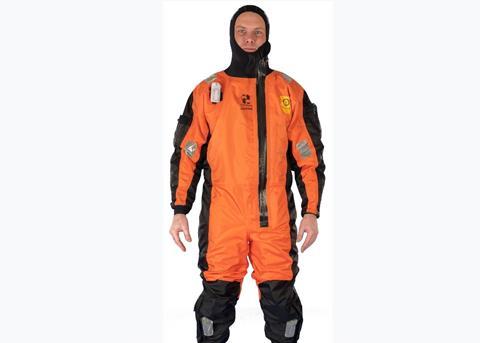 The emergency immersion suits which will join Ocean Safety's extensive portfolio of high quality safety products include Hansen's E-307 III Immersion Suit, SeaPass Passenger Suit, SeaArctic suit and SeaWork suit.
Hansen Protection, whose headquarters are in Moss, Norway, has over 140 years of experience in manufacturing items in waterproof textiles, producing the first survival suit products for use in harsh environments and cold water areas back in 1976.
Fredrik J. Eriksen, Head of Personal Protection at Hansen Protection AS, comments "Hansen Protection have been looking at alternatives to strengthen our presence in the British market. We have chosen to work with Ocean Safety and we look forward to developing the market together. With their focus in the shipping market, complementary products and presence across the UK, Ocean Safety are a good match for us and we look forward to growing our market share."
Alistair Hackett, Managing Director of Ocean Safety says "With our many years of experience in the supply of safety and survival equipment for all maritime sectors, we recognise the quality and capability of the Hansen products, they will especially complement the Offshore market which we service through our Aberdeen branch. We are delighted to be selected as a UK distributor."
The E-307 III Immersion Suit is a 6-hour immersion suit is waterproof and flame-retardant keeping the wearer dry and warm in the correct flotation position. The SeaPass Passenger Suit is an uninsulated IMO SOLAS immersion suit, to be used with a lifejacket and approved for 1 hour thermal protection in water temperature below 5°C. It can be vacuum packed to take up minimal space on board. The 6-hour SeaArctic has a certified, integral self-righting device even if the wearer is unconscious. The user can also manually inflate the bladder in the hood for increased water tightness around the face, improved flotation and freeboard. It can be used without a lifejacket. The SeaWork is a durable and flexible next-generation immersion and anti-exposure suit so it is comfortable when working in exposed areas on board ships and offshore installations. The suit is multi-certified and available in a number of options.
By Jake Frith