One of the most versatile cruisers in Germany's sea rescue service DGzRS is undergoing extensive routine overhaul until about mid August in the Tamsen Maritim shipyard, writes Tom Todd.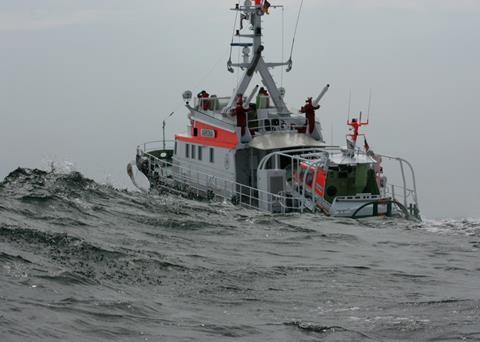 The now 20 year-old Arkona is one of two 27.5m class boats with the all-volunteer sea rescue organization and is 6.53m wide drawing 2.10m. Carrying a 7.5m tender, Caspar, with a Steyr MO256 K 43 engine, the cruiser is based in Warnemünde on the German Baltic, at the entrance to east Germany's biggest port Rostock. The Tamsen Maritim shipyard, also in Rostock, is regularly used by the DGzRS for newbuilding and overhaul.
The service says Arkona and sister Bremen are among the most powerful boats in its fleet and notable for their "particularly comprehensive" on-board array of search and rescue equipment and facilities. They include "an impressive fire extinguishing pump capability" of 2,200 m3/hour using two water cannon with a range of 130m mounted on the superstructure.
Arkona power includes a central MTU 12V 396 TB 93 1,200kW diesel and two Caterpillar C18, 651kW units. It also has ZF and Reintjes gearings and a ZF Herion bow thruster. Top speed is given as 24 knots and range as 2,300nm. Its crew numbers nine, four of them permanently on board.
DGzRS spokesman Ralf Baur told Maritime Journal the overhaul at Tamsen Maritim included routine engine maintenance, cooler cleaning, engine valve timing and oil change.The yard was also renewing paintwork and removing rust damage. The tender's radio equipment was being replaced.
Earlier this year Ernst Meier-Hedde, one of four 28m Class DGzRS SAR cruisers, was at Tamsen Maritim for overhaul lasting eight weeks before it returned to its station on the German Frisian island of Amrum.
Ralf Baur noted that DGzRS boats underwent regular overhaul every two to three years depending on how often they saw service. He told Maritime Journal: "These regular maintenance visits ensure that boats are on station and ready for service at any moment and that their technology can be relied on in an emergency". He recalled this was not only for those at sea but also for the safety of the hundreds of volunteers who serve the DGzRS along Germany's nearly 2,400 kms North Sea and Baltic coastline between Holland and Poland.