Exceptional maritime search and rescue teams, outstanding individuals and innovative technology from around the world have been recognised in the annual IMRF Awards.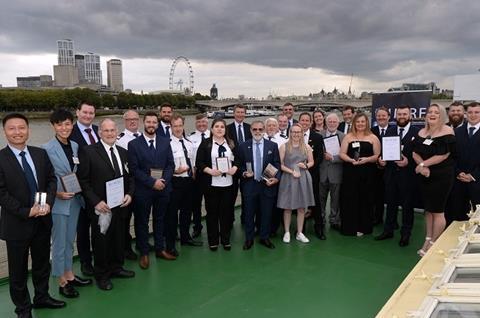 All the search and rescue winners and finalists were presented with their awards by Vice-Admiral Sir Tim Laurence KCVO CB ADC at a presentation ceremony held on HQS Wellington, on the second day of London International Shipping Week.
THE WINNERS
The Award for Outstanding Individual Contribution to Maritime SAR Operations has been awarded to Captain Huang Zhibin who led a complex helicopter rescue in a super typhoon, involving a cargo ship with nine crew stranded onboard.
The Award for Outstanding Team Contribution to Maritime SAR Operations has been presented to Marine Rescue Port Macquarie in Australia for their successful multiagency rescue which took place when a 10m motor cruiser hit rocks at speed, resulting in severe injuries to all three passengers.
The Innovation and Technology Award in the Field of Maritime SAR has been presented to Phillip Hanson and the Maritime Coastguard Agency for the agency's work using drones and other remotely controlled assets to improve future search and rescue operations.
The Vladimir Maksimov Award for Lifetime Achievement in the Maritime SAR Sector has been awarded to Arthur Allen of the US Coast Guard for his work over the last 35 years advising the US Coast Guard on the impact of ocean currents and winds on the location of people, vessels or aircraft in distress. The results of his research are used for training around the world and has helped to save countless lives at sea.
The inaugural IMRF's Women in SAR Award, which was launched this year in support of the IMO's Empowering Women in Maritime campaign, has been presented to Isobel Tugwell, a young crew member at the RNLI Shoreham Lifeboat Station in the UK.
The IMRF's People's Choice Award, which is the nomination securing the most votes from the public on facebook and sina weibo was presented to Coastguard New Zealand, Surf Life Saving Kariotahi, New Zealand Police, Auckland Westpac Rescue Helicopter Trust, recognising their successful completion of a large, complex multi-agency search and rescue operation to save a man, woman and a child thrown into freezing water when their small boat flipped over.
A special recognition award was presented to David Jardine-Smith for his contribution to the development of international SAR. He is the IMRF's expert on mass rescue operations and has been the organisations special representative at the IMO. David joined the IMRF in 2010, following a career at sea and many years ashore working with the UK Coastguard, ultimately as the national organisation's head of search and rescue.
By Jake Frith