Australian vessel designer and builder Incat Crowther has announced the delivery of 'Ratayapibanbancha' and 'Arcarachwaratorn', a pair of 24m Catamaran Patrol Boats.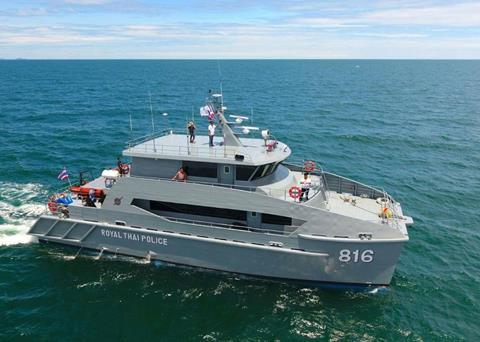 Built by the Bangkok based Seacrest Marine within a demanding delivery schedule, delivery of the vessels closes a capability gap identified by the Royal Thai Police.
Ratayapibanbancha and Arcarachwaratorn are based on the innovative 'Reef Ranger' which was designed by Incat Crowther and commenced operation as a patrol boat on Australia's Great Barrier Reef in 2014. The platform has demonstrated superior operating characteristics in service and was identified as capable of meeting the mission demanded by the Royal Thai Police.
Ratayapibanbancha and Arcarachwaratorn will perform a multitude of functions that fall under the jurisdiction of the Royal Thai Police. These include border protection, general and long range patrol duties and transporting dignitaries. To this end, the vessels have been configured to be versatile and fully-featured, including comprehensive communication equipment and office facilities.
The vessels' engineering system installations reflect careful attention to detail. The application of underwater main engine exhaust outlets ensures very low ambient noise levels throughout the vessels and surrounding environment.
The vessels are powered by twin MAN 12V D2862 main engines, each producing 1213kW and feature Humphree interceptors. The vessels performed very well in sea trials, achieving a loaded speed of 32 knots. They are capable of a maximum speed of 34 knots and a cruise speed range of 1000 miles.
By Jake Frith