French-owned search and rescue equipment specialist McMurdo has launched a new web portal to educate the global audience on status, functionality, benefits of MEOSAR, the fast-emerging satellite-based life-saving system.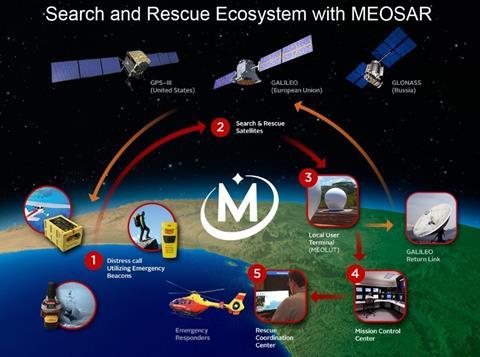 The site is a dynamic information portal for MEOSAR (Medium Earth Orbit Search and Rescue), the next generation version of the Cospas-Sarsat international search and rescue (SAR) satellite system that has helped to save over 40,000 lives since 1982. Distress beacon owners, government agencies, media groups and other SAR-related personnel globally will be able to track the progress of MEOSAR's deployment and better understand its functionality through a variety of informational and educational materials.
"As the premier supplier of end-to-end Cospas-Sarsat solutions, McMurdo is proud to continue building awareness of MEOSAR and the significant benefits that it brings to the search and rescue community," said Remi Julien, McMurdo President. "We started by showcasing a working MEOSAR system in our world-leading, state-of-the-art Emergency Readiness and Response Experience Center last year, and now we are launching this online digital gateway so that critical MEOSAR information is available to a more widespread, worldwide audience."
Visitors to the online MEOSAR Knowledge Center will have access to information including:
* MEOSAR roll-out and deployment schedule status
* MEOSAR benefits and its impact on existing SAR products, technologies and systems
* MEOSAR's role in SAR initiatives such as the European Commission's HELIOS project to develop next generation 406MHz beacon solutions
* Use case examples including the first MEOSAR-related rescue story
* Educational webinars, presentations and press articles
* Important Cospas-Sarsat resources and materials
When fully deployed in the next few years, McMurdo says that MEOSAR will greatly improve the existing SAR process with global coverage, near-instantaneous distress beacon detection and a unique Return Link Service feature that acknowledges distress signal receipt. MEOSAR's advanced technologies, for example, will be able to accurately detect and locate a distress beacon signal almost instantaneously instead of taking 45 minutes or longer today. McMurdo recently installed the first MEOSAR systems in the U.S., Australia, New Zealand and other countries around the world.
"Our decades of experience in pioneering the latest SAR advancements, our leadership position as the only company that provides an end-to-end SAR ecosystem and our ongoing commitment to saving lives put us in the unique position to provide continuous education on important subjects such as MEOSAR," added Julien.
Visit the MEOSAR Knowledge Center at http://www.mcmurdogroup.com/meosar-knowledge-center/
By Jake Frith