The world's first industrial site for renewable green hydrogen production using wind turbines has been inaugurated.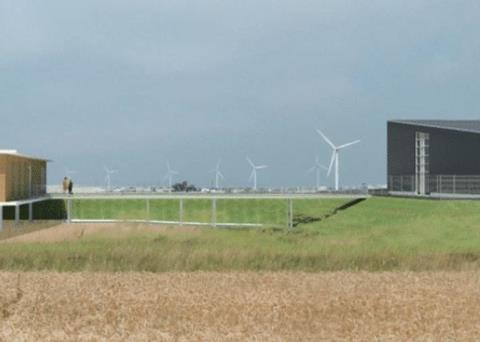 French hydrogen producer Lhyfe said its plant in Bouin (Vendée), France is now producing the first renewable green hydrogen in the world made using an electrolyser powered directly by wind turbines, and in industrial quantities (up to a tonne a day).
Matthieu Guesné, CEO and founder of LHyfe, said: "A year after laying the foundation stone, we are extremely proud to be launching this site, which is symbolic of course for us, but also for what it represents for energy transition. Our gratitude goes to our five initial partners, who have made this "mad" project to change our energy model possible. Now we have succeeded this first step, we are ready to move faster."
Volume to ramp up
The site currently produces 300kg a day, but will ramp up to a tonne a day in the coming months. Lhyfe's hydrogen will supply four refuelling stations in western France.
Some fifty or so heavy vehicles, buses and refuse collectors will be powered by renewable green hydrogen in Loire-Atlantique, Sarthe, and Vendée at first. Further rollout will happen eunder the VHyGO project in particular.
Lhyfe will soon reveal the names of other operators that it will be supplying, in sectors such haulage, logistics and industry.
Lhyfe's first R&D centre, adjacent to the production site, is dedicated primarily to optimizing its production process and to offshore development work. It is already prepared to produce hydrogen at sea, through a first renewable hydrogen production demonstrator that will be implemented in a few months off the coast of Loire-Atlantique.
The company has already confirmed around sixty projects throughout Europe. Lhyfe has raised €50m to support Lhyfe's development in France and abroad, through the strengthening of its teams and the funding of R&D and new projects.
By Rebecca Jeffrey