A new £14 million (€16.2 million) quayside warehouse has been opened at Middlesbrough Port with the town football club's professional footballers cutting the ribbon.
The development is the result of a partnership between Able UK, which specialises in the decommissioning of ships and offshore installations, and LV Logistics, which provides logistics to a range of industries including energy and construction.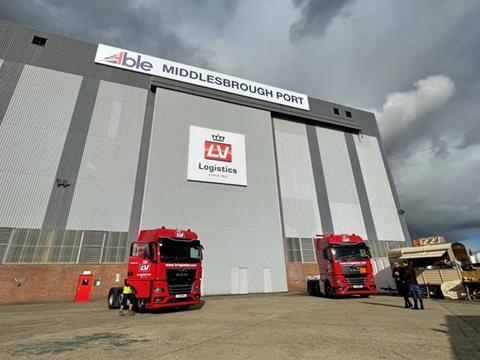 As well as being situated alongside the River Tees at Dock Point, the facility is also opposite Middlesbrough Football Club, which is in the Championship League - effectively the second division.
The warehouse has been derelict for 10 years and the redevelopment of 10 acres of external laydown areas for cargo and vessel agency work is part of a big investment plan for the area, Company Ambassador for LV Logistics Matthew Ord said.
Able UK has owned the Middlesbrough Port since 2000. It has heavy load-out quays and a 25t/m2 heavy lift pad, as well as good sea access and deep water quays. LV Logistics, which is part of the family-owned Royal Dutch LV Logistics business, has been in Teesside since 1986.
"Economic success needs our local companies to thrive and grow," said Able Group executive chairman Peter Stephenson. "This will forge an even closer bond between the two companies, who have had a significant Teesside presence for a number of years."