The logistics arm of the Abu Dhabi National Oil Company (Adnoc) has completed a deal that will bring its total number of offshore support vessels to more than 300, including what is now the world's largest fleet of self-propelled jack-up barges.
Adnoc L & S (Logistics and Services) has finalised the acquisition of Zakher Marine International (ZMI), which owns 38 offshore support vessels and 24 jack-up barges, with the aim of expanding its offering to the oil and gas industry in the United Arab Emirates and globally.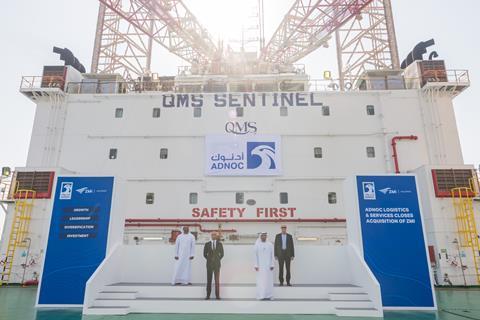 It did not release details of what it paid for ZMI, which is also based in Abu Dhabi.
"With the acquisition of ZMI, Adnoc L&S extends its regional footprint and creates new opportunities for expansion with an industry-recognized partner, broadening its services to include critical support assets for offshore operations, including ZMI's maiden offshore renewables project in China," the company said.
"As part of our wider growth strategy, this acquisition allows Adnoc L&S to offer a broader range of services to our customers, unlocking new and attractive revenue opportunities, whist leveraging ZMI's proven track record for operational excellence and commitment to health, safety and environment," said Adnoc L&S CEO Abdulkareem Al Masabi. "The addition of these assets and expertise will open new markets for Adnoc L&S, both locally and internationally, broaden our industry-leading integrated services offering and consolidate our position as the region's largest integrated logistics provider."
ZMI will contrinue to operate as a standalone company.