Waterjets for slower speed vessels can compete for fuel efficiency with traditional propulsion systems, says designer Hamilton Jet.
Waterjet designer Hamilton Jet has launched a new jet for slow to medium speed craft in a move away from the convention that waterjets propel higher speed craft.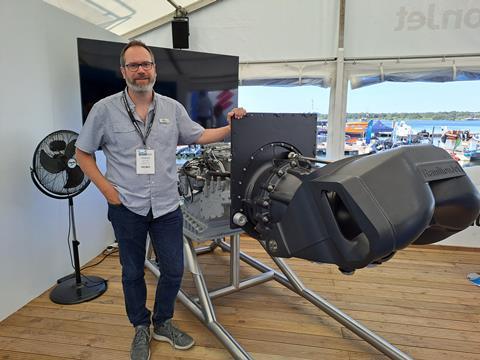 Although the largest segment that the company provides water jets for – the military, coastguard and police boats – usually requires a high-speed vessel, other segments such as crew transfer vessels are now looking for a slower speed, both to save fuel and to provide greater comfort for crew to avoid having to take time off for sickness.
"These are 50 per cent of our customers," says managing director Ben Reed. "We also see fishing boats that need a higher speed if the season is short so they can get out and back more quickly.
"But with the growth in the CTV market we are seeing demand for slow and medium-speeds, and so we have optimised our waterjets to make it much more efficient at those speeds."
Reed says the LTX series of waterjets is the first waterjet to compete with performance, fuel efficiency and bollard pull of the bet traditional propeller systems at around 25 knots, and can be used on diesel, electric or hybrid vessels.
The company's two major companies, Auckland-based EV Maritime and Green City Ferries, in Stockholm, New York and San Francisco, will both use the LTX's on their 24m vessels.
Both companies' ferries will be fully electric and Green City Ferries will have the option to use hydrogen fuel cells for longer journeys.