Tersan Shipyard will also build two methanol-powered service vessels for Dutch firm Acta Marine.
Turkish shipyard Tersan has launched NB1102 - soon to be named Gadus - an arctic freezer trawler built for P/F JFK in the Faroe Islands in the North Atlantic.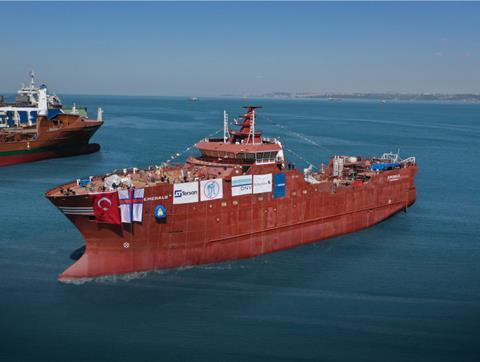 Designed by Skipsteknik, the 88.1m x 18.3m fishing vessel is the second trawler built at Tersan for owners on the Faroe Islands in the last two months, it says.
She will be outfitted with a shrimp factory, an advanced fillet factory and a fishmeal and fish oil plant, Tersan says.
With accommodation for 43 people, she will be capable of efficiently trawling in icy and arctic waters and is planned to be delivered in the last quarter of 2022.
"The effectiveness date of the project was the beginning of the Covid pandemic and this project provided us with a separate source of motivation, strength and happiness," said Tersan Chairman Osman Nurettin Paksu.
"For this reason, she has a special importance for us."
Tersan employs more than 6,000 workers in two shipyards - one in Istanbul, the other in Yalova.
In June, it signed a contract with Acta Marine Netherlands for two Construction Service Operating Vessels powered by methanol and MDO/HVO.
Designed by Ulstein Design & Solutions, the two vessels are planned to serve in the offshore wind construction market and include TWIN-X stern, an integrated walk-to-work gangway system, 3D crane and hotel-styled accommodation areas.