INNOVATIONS SHOWCASE at Seawork - winners awarded
Artemis Technologies scooped two awards in the Innovations Showcase category - one for Vessel Build & Design, and the other for the overall Spirit of Innovation award.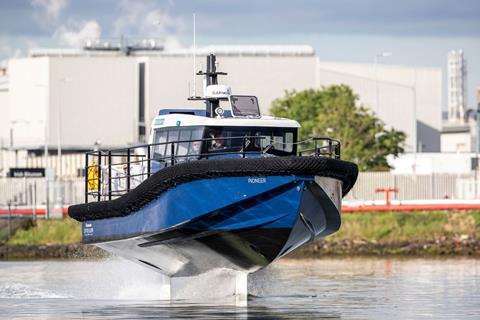 Judges Kerrie Forster (CEO of the Workboat Association), Jake Frith (former editor of Maritime Journal and a marine journalist), and Ian Cooke (Managing Director of equipment firm C-Quip) unanimously agreed that the company's first fully electric hydrofoiling workboat pushed innovation to a standard they hadn't seen for some time.
"This gives a genuine glimpse into the future for a variety of commercial vessels," they said.
For Power & Propulsion, Hydromaster won the prize for its propulsion system, which "opens up the benefits of 360 degree azimuth propulsion to higher speed craft".
Zelim's winning man overboard rescue system in the Safety category - which encompasses a sensor system to detect people overboard that has six times the sensitivity of a human eye in bad weather, and a conveyor system to scoop people out of the water and place them onto the boat - was something the judges said they had never seen before.
Other winners were MJR Propulsion in Renewable Energy, for its on-turbine charging system for workboats - again, something the judges said they had not been seen before but that the industry had been crying out for, opening offshore vessels up to electrification.
DLM won the award for underwater services, with a new grapnel that can change the depth it digs into the seabed, and in the Electronics & Materials category, Sea Sure's Shock WBV Omega shock-mitigation product for seats took the prize.