Boluda Towage has strengthened its presence in Asia following a "strategic investment" in Hongkong Salvage and Towage Services Ltd (HKSTS).
The arrangement involves a joint venture with CK Hutchison Holdings, owners of HKSTS since 2021, and will be seen as a major expansion for Valencia, Spain-based Boluda, allowing it to expand its Asian business while also enhancing HKSTS services with extra salvage and towing capabilities.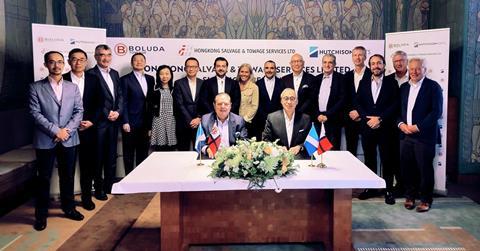 Family-owned Boluda describes itself as the "world's largest tugboat operator" with a fleet of more than 700 vessels globally, providing identifiable benefits to both parties and particularly for HKSTS, which operates a fleet comprising 13 tugs totalling 57,800bhp.
Much is written about the Boluda story, particularly in Europe, but HKSTS's own story is equally interesting and involves wide experience in the region, including Hong Kong. Its services, however, go beyond just operating harbour and coastal tugs and also involve multiple roles as designer, owner, operator and consultant of marine transport management projects. Its business includes transporting maritime waste for the Hong Kong government and operating two dual-fuel standby vessels for Hong Kong LNG Terminal Limited.
Hong Kong Salvage & Towage (HKST as it was known then) was formed in 1972 with the merger of Hong Kong & Whampoa Dock Company and Taikoo Dockyard & Engineering Company, becoming Hong Kong United Dockyards (HUD). The merger includes the dockyards' fleets becoming HKST. After corporate restructuring and acquisition in 2002, HKST became a division under the HUD Group and from 2021 was owned by members of the CK Hutchinson Group.
Hutchinson Ports is a division of CK Hutchinson Holdings Limited and is described as "the world's leading port investor" operating in 54 ports in 25 countries throughout Asia, the Middle East, Africa, Europe, the Americas and Australasia.
At the signing ceremony, Boluda president Vicente Boluda spoke of the "unique and formidable opportunity" to strengthen its presence in the Asian continent, especially in Hong Kong.
Eric Ip, group managing director of Hutchison Ports, said: "We are very pleased with this major strategic and complementary partnership. Boluda is recognised as a global leader in maritime services. Its extensive experience in tugboat services will boost our salvage and towage capabilities, creating a strong alliance that will benefit our customers in terms of integrated service offerings. HKSTS is excited to join the Boluda family. We look forward to working with our partner throughout our network of ports."