The International Salvage Union has provided details of its members' activities, the sector's expertise in demand not only for casualties on the world's oceans but also within ports and even on dry land.
Salvage contractor and consultant Marine Masters BV has completed the complex removal of a 1,200t collapsed coal transfer crane and part of the associated jetty at Ashkelon, Israel. As well as removing debris from the seabed the Netherlands-based company was able to recover the body of the crane operator who sadly lost his life in the accident, bringing closure to the person's family.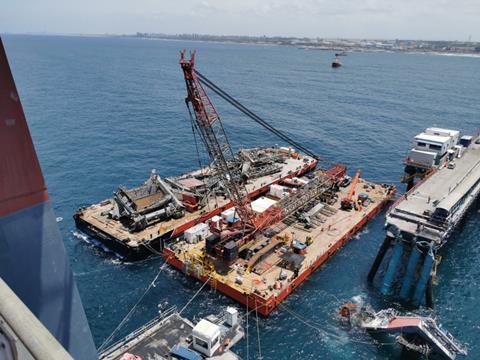 The team was able to inspect the sister crane to the one lost to establish locations of subsea cuts by divers as part of the operation, which was completed ahead of schedule over a period of seven weeks and with minimal impact on the environment and despite being impacted by geopolitical conflict.
Buenos Aires-based salvor Raul y Negro responded when the Taiwanese-flagged bulk carrier Tai Knighthood struck rocks on the breakwater while leaving Necochea port, Argentina. The vessel, loaded with 72,000t of soybeans, suffered major hull damage, heeling seven degrees to port and increasing its draught dangerously, leaving it unable to continue its journey to China.
The vessel was assisted to Golfo Nuevo, where temporary repairs, including a 10m by 4m patch bolted to the hull, were completed. After dewatering the flooded tanks and installating cement-filled boxes, Tai Knighthood continued its voyage.
Vessel groundings sometimes require cargo to be discharged but thanks to the intervention of professional salvors this particular casualty's cargo could remain on board, doubtless minimising the financial and (potential) environmental damage risk.
Around the same time Raul y Negro was tasked following the "uncontrollable sinking" of a floating drydock in Montevideo, Uruguay. Five fishing vessels were under repair in the drydock at the time, one Korean-flagged vessel capsizing and sinking.
In association with Servicios Maritimos SA of Uruguay, Raul y Negro carried out wreck removal operations of both fishing vessel and drydock. The latter was described as in a "delicate structural condition" after the accident and both vessels were sent for scrap, freeing up space for a new floating dock.
Inland work after hurricane
Marine salvage contractors would perhaps not normally expect to be heading inland to carry out their work but when in September 2022 Hurricane Ian hit landfall as a Category 4 storm at San Carlos Island, Florida, 40 vessels including fishing vessels found themselves displaced ashore.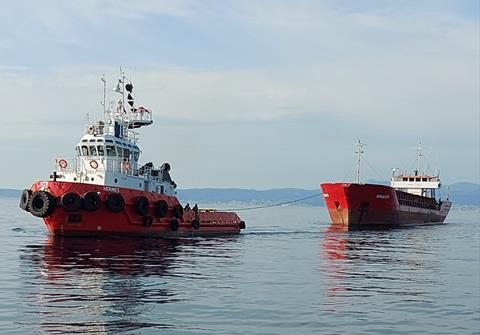 Resolve Marine came to the rescue with the "challenging" project of returning the vessels to their natural element in an operation the US-based salvor said "will long be remembered for rejuvenating a fishing industry and restoring a valuable local community". Access to the vessels involved clearing debris from pathways for personnel, rigging and roller bag access using its RMG 400 crane barge, the operation also including removal of fuel and rotting shrimps.
More conventional activities were provided meanwhile by Resolve with its tug Resolve Commander responding from its salvage station in Freeport, Bahamas to assist two disabled container vessels which lost power close to the Florida coast.
Greek salvor Tsavliris is well known for its work responding to ships disabled mid-ocean and requiring assistance. One of its own tugs, the 41tbp Hermes, was dispatched from its salvage station at Patras Port recently when the general cargo vessel Himalaya experienced engine failure and anchored in the area of Kardamyli/Stoupa, Greece.
Difficulties in recovering the vessel's anchor meant it had to be cut and buoyed, whereafter Himalaya was towed to Neo Molo Drapetsonas and handed over to port tugs for berthing.
Tsavliris also reports corporate news including gaining ISO certification 22301 for business continuity management, the company saying the new certification "demonstrates the commitment for increased resilience, uninterrupted operations and increased capability to handle disruption". It also renewed ISO certifications 9001, 14001 and 45001 with Bureau Veritas following its record of zero incidents at sea and marine pollution.
The Greek salvor also received the Green & Environmental Award during the Maria Callas Awards 2023 in Monte Carlo, with Andreas A. Tsavliris receiving the award from His Serene Highness Prince Albert II of Monaco, a supporter of green policies with his foundation dedicated to protecting the global environment for decades.
The award demonstrates that as well as providing services that protect the marine environment, salvors are not averse to ensuring their operations also meet their own green ambitions.