Two Nowegian ferry connections are being kitted out with autonomous charging solutions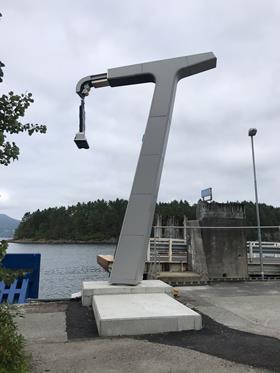 The electrification of another two Norway ferry connections will be realised thanks to Zinus' autonomous charging solution selected by the automation group, SEAM.
"Together with Zinus, SEAM has previously delivered charging systems to several ferries. In our opinion, Zinus offers efficient technology with good charging capacity. The Zinus system is also very elegant in appearance and the charging tower's footprint makes it both easy to place and space-saving on the quay," said Karl Norheim, project manager at SEAM.
"Furthermore, the solution is very flexible in relation to installation height, which is an advantage in ferry connections with large tidal differences."
Speedy connection
This latest order adds to the company's order history of supplying electrical charging infrastructure to the ferry traffic along the Norwegian coast.
Supply includes four telescopic charging towers of the Charging Telescopic Autonomous type to be installed on the ferry quays, as well as four charging connections to be installed on board the two ferries that operate the fjord crossings.
When combined, the charging tower and connection form an autonomous system that charges electric ferries fully automatically at call. Connecting the ferries to the power supply only takes around 20 seconds and the system can transmit a current of as much as 4,400 amperes.
In total, Zinus now has delivered or to order Charging Telescopic Autonomous systems for 24 ferry connections, spread across several nations.
Zinus specialises in the supply and fabrication of handling systems for shore power and charging to a wide on and offshore market.
The systems will be delivered in the second quarter of 2022.