Ballard has successfully completed the installation of two of its DNV Type Approved 200kW FCwave fuel cells on board Norled's MF Hydra ferry.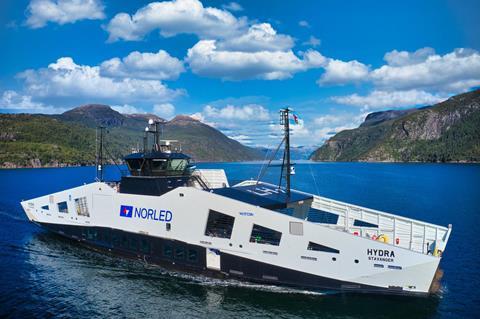 With its first sea trials beginning shortly, MF Hydra will become the first ferry in the world to be powered by proton-exchange membrane (PEM) fuel cells running on liquid hydrogen.
"The installation of Ballard's FCwave fuel cells on board the MF Hydra, not only showcases how efficiently zero-emission operation of ships can be implemented, we are also able to show how user-friendly the actual fuel cell installation setup is from an operator's perspective," said Thomas Therkild Petersen, marine product line manager, Ballard.
Hydrogen power
The two fuel cell systems are integrated into a clean-lined cabinet with easy-access doors. All interfaces are accessible from the front for service and maintenance, and all connections are located below floor level.
The FCwave module is a true plug-and-play solution, providing an optimal zero-emission replacement for conventional combustion engines onboard ships.
It is a high-power, adaptable engine in a hybrid electric system that incorporates fuel cells working together with batteries to provide efficient, zero-emission power.
"With this real-world example, we can help to 'demystify' how we reduce the complexity of fuel cell technology integration – which may still be quite new to some ship operators. In a nutshell, this is really zero-emission made easy," added Mr Petersen.
Norled's MF Hydra has a capacity of up to 299 passengers and 80 cars and will sail on the triangular route between Hjelmeland-Skipavik-Nesvik in Norway.
The first test runs will take place in December 2022.