An Electric Eel pusher tug has been unveiled for inland water transport electrification in Lithuania.
Ship designer Western Baltic Engineering (WBE) has partnered battery maker AYK Energy to electrify transport on inland waterways in Lithuania with its first electric pusher vessel.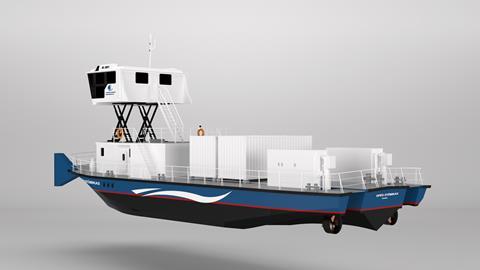 WBE is based in western Lithuania, and AYK is headquartered in Andorra. They have joined forces to develop a battery-powered pusher tug for the Lithuanian Inland Waterways Authority before expanding to the wider EU market, they say, where the potential market is very attractive, with a fleet of 332 diesel pushers on the Danube alone pushing more than 2,000 non-propelled barges.
"Our initial design is for a low draft pusher but we are receiving lots of interest for deeper draft models as well as for vessels which can pull as well as push," said WBE's Head of Sales & Marketing Eglė Mikalauskienė. "It is brilliant to see our concept capture the imagination and working with AYK we can now design alternative models, with different shape batteries and power voltage, to meet owners' requirements."
The potential is vast, with the EU 'ramping up pressure on member states' to shift the bulk of cargo transport to Europe's extensive inland waterways network as opposed to road, which currently accounts for 75% of inland cargo, the companies said.
"EU strategies (the European Green Deal and the Sustainable and Smart Mobility Strategy) indicate that inland waterway transport and short-sea shipping should increase by 25% by 2030 and by 50% by 2050," they said, adding that the 25 EU member states contained 41,000 kilometres of waterways.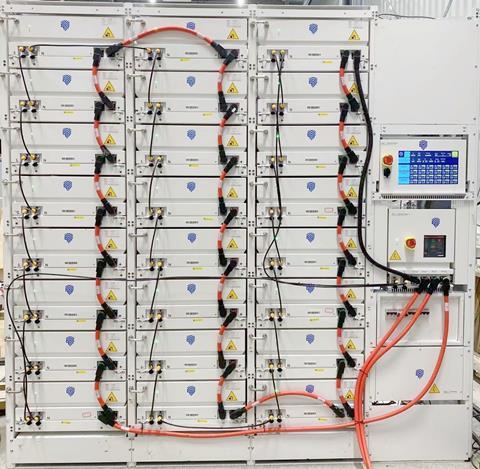 Electric Eel has a range of 300km before recharge, says AYK, which supplied the three lithium-ion batteries. Two are housed in TEU containers on deck and can be replaced at harbour by crane; the third is permanently below deck and can be charged at quayside.
The batteries weigh a total of 74 tonnes, and give a pushing capacity of 2,000 tonnes with a top speed of 22kn/h downstream at 85% engine load.
"The electric batteries create an engine power of 500HP/400kW compared to a diesel equivalent which has 1,000HP/800kW," AYK says.
The 26m long Electric Eel is currently awaiting class Approval in Principle with Bureau Veritas.