Inland & Coastal Marina Systems has delivered a workboat berthing solution for Foyle Port in Northern Ireland.
The firm had to work within a short timeframe and with liited space available for inshore moorings, but Seawork exhibitor Inland & Coast Marina Systems managed to pull off the project.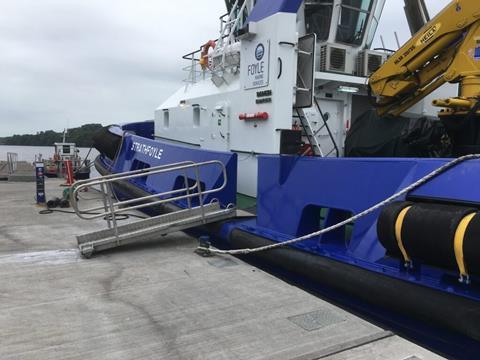 "The tugs and workboats within the port at Lisahally, County Derry, need to be berthed close to the port terminal so that they're readily available for work," said Vincent Carey, ICMS sales engineer. "But space being extremely limited coupled with the loads generated by the size of the vessels meant we had to be creative with our solution.
"Our breakwater units were ideal as we can manufacture them in sections for easy transportation and installation, as well as offer variable freeboard heights to match those of the vessels using them.
"Accessed via a gangway, the 60m long by 4m wide breakwater is moored on chains with the ability to accommodate vessels with displacements up to 160 tonnes. Port operations are now able to proceed continuously and without delay as the commercial craft is on hand."
On the other side of the Irish sea, following the award of a £1.2m contract by Ullapool Harbour Trust, visiting yachts, local leisure craft and small fishing vessels will be able to berth in the calm waters of Ullapool harbour, protected by an IMCS concrete breakwater.
Calum MacDougall, ICMS engineering sales manager based in Lossiemouth, Scotland, said: "We're delighted to have been awarded the contract to design, manufacture and install the extension to Ullapool's existing berthing facilities, helping the harbour maximise its commercial potential.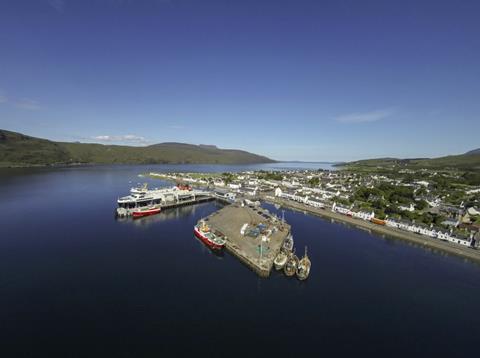 "Supplied with various freeboard heights to accommodate commercial and leisure vessels of different sizes, all berths will be fully serviced with electricity, lighting and water, offering users a stable platform and easy access to their vessel.
"We'll also be ensuring the harbour has the ultimate in heavy weather protection, through the provision one of our tried and tested wave attenuating floating breakwaters. We're looking forward to starting work on this exciting new project later this year, once the new esplanade and Shore Street civil works have been completed."
Inland & Coastal Marina Systems has built projects all over the British Isles.
Last year, a 'U' shape pontoon built at Mallaig allowed lifeboats to berth inside it, with the 2m x 0.6m inflatable fenders lifeted to the sides' inner faces.
The units, which comprised the pontoon, were manufactured and assembled offsite and delivered completed so they could be lifted straight from the lorry and positioned into position without delay.
Topped with anti-slip GRP decking, the new pontoon and bridge system offers Mallaig RNLI Lifeboat Station a more stable platform to access its Severn class lifeboat.