Inland & Coastal Marina Systems (ICMS) has installed a 30m heavy-duty pontoon to service Seagreen Offshore Wind Farm, which is Scotland's largest.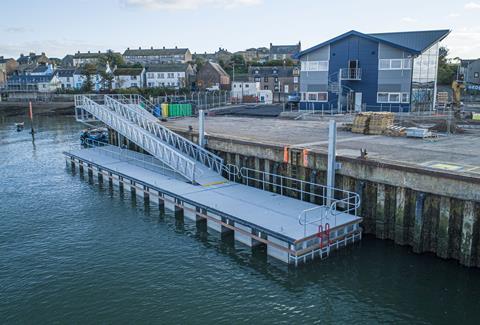 The pontoon was installed at Montrose Port's South Quay. CTV crews can benefit from safe access to vessels during the commissioning and ongoing maintenance phases of the wind farm with the anti-slip features of the decking and high-level task lighting, ICMS says.
ICMS develops bespoke berthing solutions for commercial ports and harbours that aim to ensure safe working conditions for workers day and night, all year round.
Another example of a recent installation is the custom berth it built to accommodate a new 287-tonne tugboat at Portland Harbour, Maine, within the confines of existing operational pontoons.
As global offshore installations increase in number, the demand for ICMS's services can only go up.
"For each project, ICMS works with individual port authorities, power companies and other interested parties to ensure that its bespoke water access solutions meet a customer's requirements," says the company. "Often working with limited space, ICMS takes into account the existing infrastructure of the port or harbour, ensuring the most cost-effective and sustainable solution is created."
ICMS will showcase its berthing options for workboats and crew transfer vessels at Seawork, stand G47.