Kaymac was showcasing some of its latest bespoke projects at Seawork.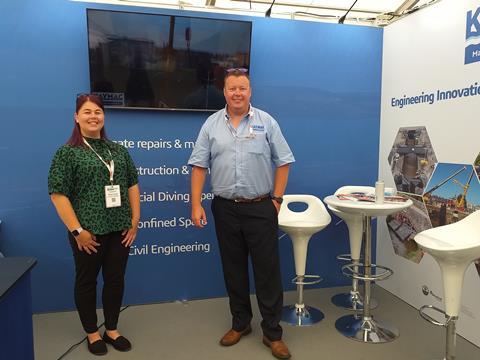 The company is known for its multiple expertise including estuaries, ports, coastal and inland waterways, but a recent jetty construction project brought with it a whole new set of challenges.
"The largest challenge was working in the Bristol Channel. We were tasked with constructing a new jetty on Flat Holm which has the second highest tidal range in the world, so that brought with it challenges in terms of navigating steep cliffs and transporting plant," Andrew Edwards, quantity surveyor, Kaymac, told MJ at Seawork.
Job well done
Flat Holm is less than half a mile wide and is the most southerly point of Wales.
Mr Edwards told MJ that the existing jetty on the island consisted of a concrete sub-structure in the form of piers, which were supported by a number of steel cylindrical piles. Over time, the length of the jetty structure had reduced through the off-shore extent of the jetty becoming damaged and demolished through natural causes.
As such, visitors were only able to visit the island when the tide levels where high and allowed the vessels to moor on the existing jetty. Kaymac was commissioned by Cardiff Council to demolish the existing jetty and construct a new and extended one.
Due to the access restrictions, the civils team had to stay on the island for the duration on project and work both day and night.
To transport the required plant and materials to site, Kaymac arranged for the use of a landing craft. The vessel mobilised at Cardiff Bay, mooring at the slipway, the required plant and material was then loaded into the vessel via a dumper and trailer.
Working with the tides, the modification of Piers 1 and 2 were completed and piers 3 to 14 were demolished. Operatives erected formwork around the piles of Piers 4, 6 and 8 before placing concrete to the required design level. Then, the fabricated steelwork was installed followed by the GRP, recycled plastic rails and D Rubber to design specification.
The project took six weeks to complete before being handed back to the client on time and to budget.
Going forward, the firm has been commissioned by the Port of Tilbury to repair and maintain some of its lock gates. The work will be undertaken in 4/5 day stints over a period of six months so as not to interfere with daily operations. It's also the go to marine civil engineer for Bristol Port, with a working relationship of over 23 years.