The US's plans to expand offshore wind have fallen flat with the first lease sale for projects in the Gulf of Mexico receiving just one winning bid.
RWE Offshore US Gulf won the Lake Charles Lease Area by virtue of the fact that it was one of only two contenders. The area was won for $5.6 million, and the area is estimated to have the potential for generating 1.24GW of energy.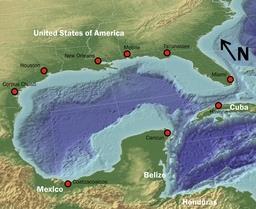 The two other areas in the lease sale, which were both offshore Galveston, Texas, with one of just over 100,000 acres, the other of 97,000 acres – did not receive a single bid.
The asking price for the areas was $5,124,000 million and $4,839,000 respectively.
"The advancement of an offshore wind lease sale in the Gulf of Mexico is a game-changer. Gulf companies are already instrumental in the development of the US market and by opening new lease areas on their doorstep we will leverage our unique domestic expertise even further," said Liz Burdock, founder and CEO of the Business Network for Offshore Wind, in February.
In March 2021, Biden set a target of 30GW of offshore wind to be in place by 2030, which would be enough to power 10 million households.
The administration has said it will hold seven offshore wind lease sales by 2025.
The Bureau of Ocean Energy Management (BOEM), which has been promoting the lease sales, called the Gulf of Mexico sale 'an important milestone' despite the disappointing bidding scenario.
Responding to Maritime Journal's request for comment, John Filostrat, with the Office of Communications, said: "Tuesday's lease sale represents a significant milestone for reaching the Administration's goal to deploy 30 gigawatts of offshore wind energy capacity by 2030.  The Gulf is well positioned to transition to a renewable energy future, as the region's existing energy infrastructure, workforce, and businesses expertise in offshore operations can immediately advance and benefit offshore wind development. We look forward to holding more offshore wind lease sales in the future."