A new 15m amphibious landing craft will be a size up from PDL's existing 12m version.
Boat builder PDL Marine has received a request for a bigger, better amphibious landing craft to complement its existing 12m offering.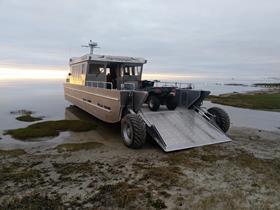 As well as its larger size, the new 15m vessel will carry a crane with a 2.5 tonne lift capability, a winch and capacity for 12 personnel plus two crew.
"Landing craft seem to be the 'in' thing at the moment," said Business Manager David Rutter. "Most clients want diesel outboard engines - they want more power, more torque, and with an outboard they can be unbolted and swapped, whereas with an inboard the vessel is out of action for a lot longer.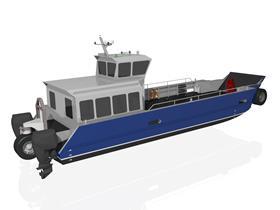 "We do get enquiries about hybrids but the problem is the cost - for a 24m transfer vessel you're talking around £2.5 million for a conventional one, another million for a hybrid. New technology is always expensive, but it will come down."
Rutter could not say what the new vessel would be used for as discussions are still going on with the client, but he did say it can carry 11 tonnes on deck when in standard mode, seven tonnes when wheeled.
"The newer model can also be certified to MCA category 2 for operations up to 60 miles from a safe haven, so it is a 'go anywhere' type of vessel and has the option to change the wheelhouse layout to suit specific requirements," he said.
"The Amphibian can be fitted with a wide array of engine choices, whether it be petrol or diesel outboards, IMO tier III inboard engines, and can sustain speeds up to 28 /30 knots."