A €50 million 75m long offshore patrol vessel (OPV) has been delivered to the Maltese capital Valletta, where it will be operated by the Maltese government.
Canterie Navale Vittoria, which is based in Venice, has built the boat for the Maltese armed forces to use for coastal surveillance operations, extended patrols on the high seas and search and rescue operations.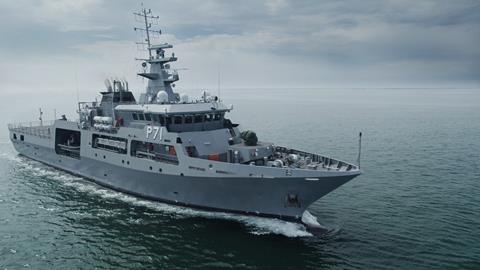 The vessel builder specialises in designing and building military, paramilitary, work, commercial and transport boats up to 100 metres in length.
This newbuild, OPV P71, will be the flagship of Malta's armed forces. It has a full load displacement of more than 2,000 tonnes, a width of 14 metres and a draft of 3.8 metres, and can accommodate a crew of 50 plus 20 additional staff.
An elevated bridge has 360o vision capability, and the vessel's aft flight deck can accommodate a telescopic hangar with equipment for day and night flights and refuelling for a 7t helicopter.
The aft area below flight deck has a launch and recovery ramp for one of two 9.1m RHIBs on the vessel - the second on the starboard side of the platform in the central area of the ship can be deployed with an A-frame crane even with units under way - and a special crane on the side of the vessel allows for loading and unloading materials. Both RHIBs can go up to 40 knots.
Two 5,440kW diesel engines propel the OPV P71, which move propellers with variable pitch that can guarantee a 20 knot speed for the mother unit even at full load, the company says.
"Alternatively, the ship can be propelled at patrol speeds between 9 and over 12 knots by two electric motors keyed to the power take-off of the gearboxes and powered by two of the three main generators of 750kW," the company says.
"This diesel-electric solution at patrol speed allows greater efficiency, reduced consumption and above all lower harmful emissions for the most widely used speed spectrum of the unit. The vessel is equipped with two transverse thrusters, one forward and one aft, and retractable active stabilizing fins that guarantee great stability and seaworthiness."
"We have created an OPV capable of responding to all the requests of a particularly rigorous client that is attentive to compliance with very high technical standards and performance," said Paolo Duò, president of Cantiere Navale Vittoria. "With great honour we entrust to the Maltese government, whom we thank again for the trust placed, a patrol vessel that will guarantee the armed forces of Malta an instrument of great support for surveillance and control operations in the heart of the Mediterranean."