UK boom technology firm Bolina has completed a project on southern Africa's largest hydroelectric dam.
UK boom manufacturer Bolina is to provide debris booms for the largest hydroelectric dam in southern Africa, in Mozambique.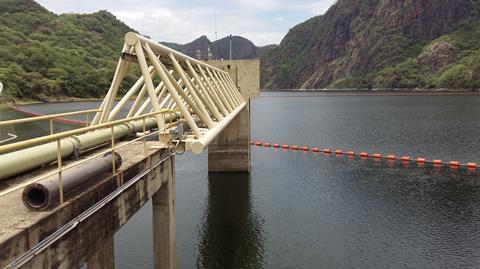 The hydropower plant is operated by Hidroelectrica de Cahora Bassa, and is the source of most of the energy for Mozambique's grid.
The 170m high Cahora Bassa Dam holds water back up to 280km upstream, and rainfall and other weather events mean it can experience severe fluctuations, which affects operations.
Before Bolina carried out the work, waterborne debris was overwhelming the existing boom, which needed to be replaced.
"Bolina debris booms are able to prevent materials such as plastic, invasive plant life or wood from accumulating and blocking the dam, as well as preventing damage to the dam itself," says Bolina. "Damage can occur as a result of heavy floating objects being carried at speed on the surface of the lake, impacting the dam's structure and consquently weakening it.
"Furthermore, obstructions to the dam's sluice gate due to debris accumulation will reduce its capacity ti channel water, in turn reducing the dam's efficiency, which will eventually necessitate cleaning and removal of obstructions and cause disruption to the dam;s supply and operation - further increasing maintenance costs."
To solve the problem, Bolina's LSB600 Log Screen Booms, tested at more than 60 tonnes, were installed complete with a subsurface mesh joined together to provide a barrier for logs and debris with full articulation between the units.
A tubular backbone and lug connections strengthen the boom without stresing the floats, which can be demounted.
In total, 380 metres of booms were shipped from the UK to the dam, complete with the largest gate assembly Bolina has designed, allowing the passage of maintenance boats either side of the boom.
Bolina was bought by the coastal and waterways protection company Ecocoast in 2020.
Its product portfolio includes silt curtains, oil booms and geosynthetic containers as well as different kinds of booms for pollution control.