Boluda Towage boss Vicente Boluda Fos has been awarded the Gold Medal of the City of Bruges in recognition of his contribution to the towage industry, which has lasted more than six decades.
The award adds to a growing list of honours held by the Boluda president, including Knight's Medal of the Legion of Honor of France.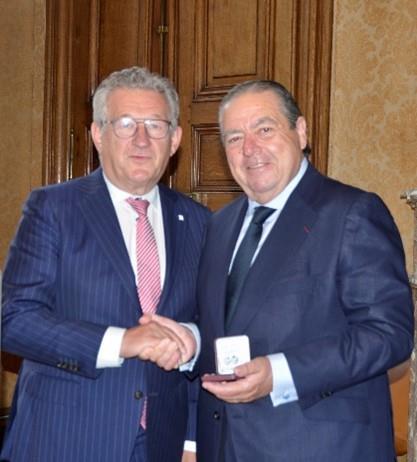 "Since 1960, Boluda Towage has been providing reliable towage services to shipping companies calling at the port of Antwerp-Bruges," said Mayor Dirk De fauw, presenting the medal. "The company has pioneered sustainable projects to make its strong fleet of tugboats more environmentally friendly. Boluda Towage's bold sustainable initiatives fit perfectly with Zeebrugge's clean port strategy, and the port's long-term knowledge ensures smooth and safe navigation."
Antwerp-Bruges is the second largest port in Europe and one of its busiest.
Carl Decaluwé, governor of West Flanders and president of the Belgian Coast Guard, said Bruges was the economic engine of the Flanders region.
"Companies such as Boluda Towage demonstrate their commitment to making this drive sustainable and efficient," he said. "Furthermore, the structured use of the North Sea is an important factor for West Flanders, as it is located on a busy sea route and in an intensively exploited maritime area. The cooperation with the North Sea neighbours is an important element in this regard and Boluda Towage's international contribution to this network is an added value."
Boluda Towage considers itself a pioneer in Europe when it comes to its tugs, which it has adapted to meet 'increasingly restrictive' IMO Tier III emissions standards.
"As a world leader in maritime services, we are at the forefront of the maritime sector," said Boluda Fos. "We pursue a strategy of constant updating of our methodologies towards an innovative environment.
"The most important goal for our towage sector is to achieve the EU's 'Fit for 55' agreement, whereby Europe aims to become the world's first climate-neutral continent by 2050, reducing emissions, including greenhouse gases, by 55% by 2030."
Last month, Boluda signed a ground-breaking agreement with fellow tug giant Damen to work on a newbuild methanol tug, the first of a kind in Europe.