Join SMI in partnership with Seawork for the next webinar in the 'Journey to Net Zero' series on 11 May from 10-11am.
This next session in the series focuses on New Emission Regulation & Guidance.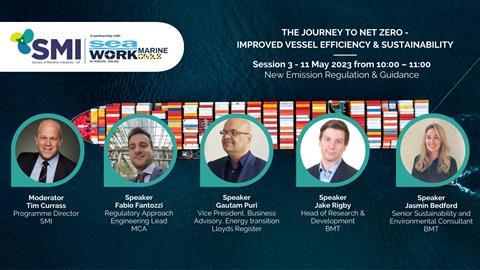 Regulation is the driving force behind climate action in industry and a key component in turning the IMO emission targets into reality. However, regulation also needs to be supported with suitable guidance to ensure it can be implemented effectively.
This series of short talks will explain the driving forces behind regulation and policy change, provide examples and trends of how new regulation is being implemented and provide a glimpse of the future regulatory landscape.
Joining Tim Currass, Programme Director for SMI are the following panel of expert speakers:
Gautam Puri, Vice President, Business Advisory, Energy Transition, Lloyds Register
Jake Rigby, Head of Research & Development, BMT
Jasmine Bedford, Senior Sustainability & Environmental Consultant, BMT
Fabio Fantozzi, Regulatory Approach Engineering Lead, MCA
Registration link - The Journey to Net Zero - Improved Vessel Efficiency & Sustainability – Webinar 3: New Emission Regulation & Guidance (seawork.com)