After months of deliberations over what to do about the São Paulo aircraft carrier, the French-built warship has been deliberately sunk in the Atlantic in what NGOs are calling 'an environmental tragedy'.
The 270m vessel, which was built in France in the 1950s before being sold to the Brazilian Navy for $12 million in 2000, had been waiting off the South American coast for a month for the Brazilian Navy to dock her for repair, but it and all ports in Brazil refused.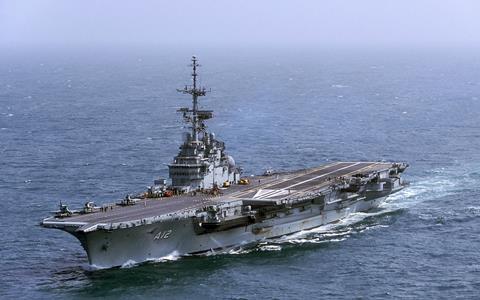 She had already spent three months being towed back from the Mediterranean after the Sok Ship Recycling yard in Turkey was refused permission to take her in because the Navy had failed to provide an IHM - Inventory of Hazardous Materials - and they did not know exactly what was on board.
Nicola Mulinaris, senior communication and policy advisor with the NGO Shipbreaking Platform, said that was likely to be hundreds of tonnes of asbestos, heavy metal-laden paint and carcinogenic chemical compounds PCBs (polychlorinated biphenyls), and also valuable steel and other metals.
"They sank the vessel to avoid a new inspection, which would reveal the amount of toxics on board," he said.
Once São Paulo began to fall linto decline, she was sold at auction last year to the Turkish shipyard Sok Denizcilik - which is currently EU approved - at auction for around $3 million, according to Mulinaris.
This, he says, immediately raised questions because the yard should have been paid to take her and recycle her rather than spend its own cash.
Since then, the towage, fuel, crew and drifting time have added another $5 million to the price Sok has paid, Mulinaris said.
"Brazil should have inspected the vessel and come up with a new IHM and gone through a new export procedure," he said.
Instead, the navy suddenly forced the convoy 200 miles further offshore, filled her with explosives and detonated them to send her to a 5,000m-deep grave.
"What happened last night will go down in history as the single most blatant violation of chemicals and waste treaties ever to take place at the hands of a country," he said. "An independent inquiry as to why this took place must be undertaken to ensure that such a thing never happens again."