Floating wind company BW Ideol has signed an agreement with state-owned financier ADEME Investissement in which they will each invest €40 million to develop offshore wind floating technology.
Under the agreement ADEME, which initially will hold about 25% of the company, will increase its holding over time as further projects are matured and financed. BW Ideol will manage the development company.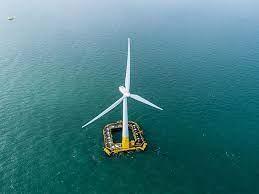 BW Ideol has two full-scale offshore floating wind turbines in operation in France and Japan, and also claims to have a 'significant project pipeline'.
The first investment by ADEME will be in the sum of €17.85 million this September.
"Subsequent capital injections will be based on project funding calls with a co-financing at equal share between BW Ideol and ADEME Investissement," a statement said. "When all funding calls are completed, each of ADEME Investissement and BW Ideol will have invested EUR 40 million in the development company."
BW Ideol's first 2MW Floatgen floating wind turbine was installed on the Sem-Rev test site off the Atlantic coast of France. The company says it generated 2.2GWh of power during the first half of 2019 and coped with wave heights of up to 11.7 metres.
"Particularly noteworthy is the fact that the wind turbine was operating and producing power during June 7th Miguel storm, when a combination of 4.4-metre significant wave height (waves up to 8.5 metres) and 22 m/s winds (with gusts up to 103 km/h) was observed," the company said.
BW Ideol retains full ownership of its other business activities and assets, including technology and related IP and know-how, a floater EPCI business line and exclusivity with the Port of Ardersier in Scotland for a floater production line, the Floatgen demonstrator, and the ownership in the EolMed offshore floating wind farm pilot.