Danish offshore engineer Cadeler has placed an order to build a sixth F-class vessel, which will treble its fleet.
It is the second F-class vessel, a hybrid design that allows the vessel to convert from working as a foundation installation vessel to a wind turbine generator installation vessel. It is scheduled for delivery in 2026.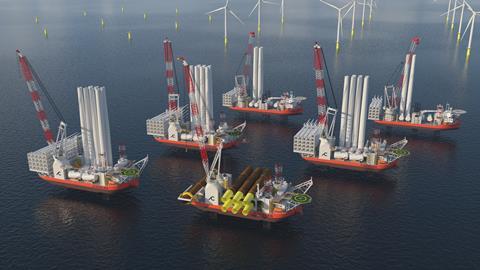 "The global demand for offshore wind capacity and technological developments resulting in increasingly larger wind turbines calls for large installation vessels," Cadeler says. "As a result, Cadeler has now ordered its second F-class vessel, offering clients a unique hybrid design."
The vessel will have a deck space of 5,600m2, a payload of more than 17,600 tonnes and a main crane capacity that has not yet been revealed. It will be built by the Chinese shipping firm COSCO Heavy Industries, which is also building two X-class vessels for delivery in the second half of 2024.
Kongsberg Maritime will supply the thruster package, electrical solutions and integrated control system, including dynamic positioning system.
Both F and X-class vessels can transport and install seven complete 15MW turbine sets per load, or six sets of monopile foundations, which means fewer trips to and from the offshore site.
"In line with the X-class vessels, the F-class will cater for some of the largest dimensions in the offshore wind industry," the firm says.
"The decision to build another F-class vessel is based on the strong market demand for assets specialising in installing foundations," said CEO Mikkel Gleerup. "Our yet-to-be-built F-class vessels have already been sought after by our customers.
"As announced in August, we have signed a contract with Orsted and have also entered a long-term agreement with an undisclosed customer booking the F-class from 2027 to 2030."