The Italian waterjet manufacturer Castoldi is creating a permanent presence in the United States with an American office in Seattle called Castoldi USA Inc.
The US division, being headed up by James Langner, US sales representative, will take care of new sales in the territory and handle after sales service for the company's American customers.
"The US office gives us a firm presence in America and will reassure our customers that we have a truly global presence. It will give them the confidence to invest in our proven waterjet technology knowing that they will also receive the top quality after sales service our customers have come to expect," said Mr Langner.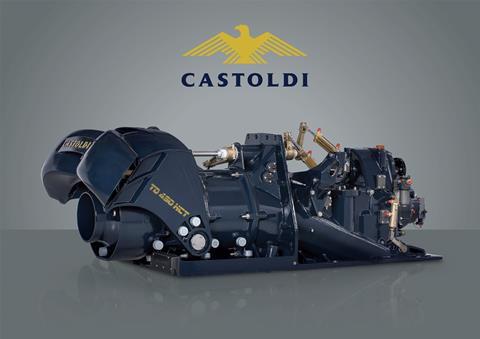 Competitive edge
The US office will handle all American sales across all markets, including fishing, workboats, fast ferries, high speed craft, military and shallow draft applications.
Castoldi's competitive edge is centred around its integrated gearbox, which offers one of the most efficient, lightweight and compact propulsion systems available on the market today.
Much more than a simple pump, it is a complete, integrated marine propulsion system. The Castoldi waterjet drive is very light due to the aluminium alloy construction of its principal parts. The gearbox with hydraulic clutch is integrated in the unit therefore the engine need not be provided with a marine transmission.
Castoldi's waterjet can easily operate in shallow waters and critical conditions due to its unique design including all oil lubricated bearings and the impeller shaft rotating into a housing, not in contact with water.
Waterjet intake is protected by a movable grid and optionally the waterjet can be equipped with the ultimate cleaning system by Castoldi called Clear-Duct, that performs the impeller reversing (back-flush) in combination with the opening of the intake grid.
The waterjet is made from high quality material with AISI 316 or Duplex micro-cast stainless steel impellers and stainless steel or titanium liners. It has been toughened using an anti-corrosion hard anodising treatment protecting all the aluminium alloy components with 60 microns thickness of aluminium oxide (ceramic), three layers of special paint and cathodic protection by sacrificial anodes. This makes the waterjet unique in its construction quality.
Castoldi's waterjet is installed worldwide on various types of fishing, commercial, military and pleasure vessels.
The company will be exhibiting at Booth 1205 at Pacific Expo in Seattle from 17 to 19 November 2022.