In the week following Seawork 2023, Southampton laid out the red carpet again as one well-known local marine logistics company celebrated its 50th birthday.
In the early 1990s, Peters & May moved headquarters to Southampton, where it has since become a commercial and leisure marine household name.
It has become a prominent business and thought leader in this important Northern European port, earning equal respect for its expertise in safely and reliably transporting heavy commercial marine and offshore energy vessels and equipment, alongside its earlier established (and very much ongoing) reputation in the field of racing yacht transport.
Global Reach
In 2005, Peters & May was acquired by the Constantine Group, a private investment company that has provided long-term investment and financial strength, enabling the company to extend its global reach.
This worldwide reach was reflected at the company's 50th birthday celebrations, where guests encompassed exclusive partners and agents with whom the company has been working closely for some time now and of course a well-received team from Constantine Group.
Peters & May CEO Simon Judson was keen to highlight the company's recent growth in the Freight Forwarding and Commercial sector and these sectors' encouraging forward potential. He briefly spoke about most offices and regions, especially welcoming the team from the US (Charleston and Florida offices) who most of the rest had not met before.
This was the most extensive face-to-face get together in the company's history, with staff in some cases having worked together for years without ever meeting.
Awards night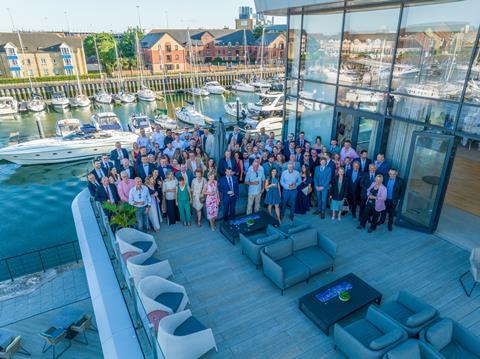 As part of the celebrations, the company held an awards ceremony. While some of the categories were fairly light-hearted (like the Instagrammer Award or the Batman Award for the undercover hero), guests also voted for the most impressive shipment, which went to commercial sales manager Robert Blades for his management of Peters & May's shipment of two minehunters from Belgium to Pakistan in late 2022. This contract to transport two 620-tonne warships as deck cargo set records as Peters & May's heaviest and longest double ship movement.
As Robert Blades said at the time, it's not unusual for the company to transport one vessel of this size, but two of them going onto one ship was highly unusual.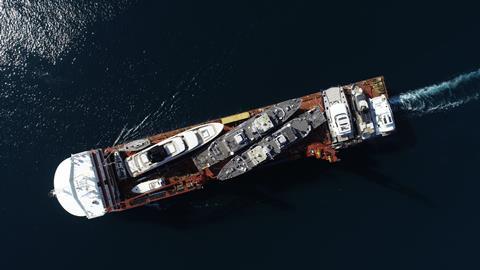 "This double shipment was due to be made in 2020, but the global pandemic put this back to September 2022. Finding a heavy-lift ship to tackle such a movement was the first challenge. There are not many ships out there with the capacity to lift two warships simultaneously, along with suitable lifting equipment," he said.
Sixteen slings were required to tandem lift each of the warships into place on board the UHL Fame with a mixture of the ship's main spreaders and Peters & May's extensive inventory of sub spreaders and sling equalising assemblies.
Maritime Journal caught up with Robert Blades at Seawork 2023, where we learnt about the rate of growth in the company's commercial business.
"The Commercial Division was only established in 2016, but has gone from zero to a £7 million (€8.2 million) turnover in those six years, which happened to have a global pandemic stuck in the middle," Blade said.
The awards ceremony also included a 'Dedication Award' for the person most committed to work, going above and beyond what is expected, which went to popular Paul Elsom with more than 30% of the votes. Elsom, who has worked for Peters & May for more than 15 years, holds a pivotal position as the company's global technical director. His role straddles the essential coordination between technical teams, loadmasters and sales offices.
Elsom oversees Peters & May's technical department and a five-strong yard technical support team. This gives him ultimate responsibility for monitoring the design, manufacture and maintenance of lifting and cradling gear and moving this critical equipment to Peters & May's ports and global warehouses.
"50 years down and countless milestones to come," said Peters & May CEO Simon Judson. "The last five decades would not have been possible without our team. It was an honour to see our Peters & May family finally come together in one place, from all over the world - many of us meeting each other for the first time.
"The connections have been instant, and the sense of camaraderie and team spirit is stronger than ever. With energy and excitement for the future so contagious, we can't wait to take on the next 50 years together. Thank you to everyone who made these celebrations so special. I'm very proud of our Peters & May family."