Classification society ClassNK has issued its Approval in Principle (AiP) for an ammonia-fuelled tug.
Tugboat owners and builders globally are likely to sit up and take notice of the recent AiP by ClassNK for ammonia-fuelled tug A-Tug, which has been developed by NYK Line and IHI Power Systems Co Ltd (IPS).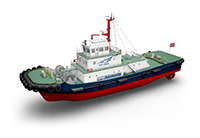 In an industry that is globally increasingly committed to meeting the demands for decarbonisation, any alternative fuel innovation in the towing industry can only happen with the blessing of classification societies, so this could be seen as an important milestone.
Adequate safety measures for such a project are important as ammonia is toxic to humans and corrosive to materials, and progress builds on ClassNK's Guidelines for Ships Using Alternative Fuels, which sets out necessary standards to minimise risks for ship crews and the environment by stipulating requirements for installation, controls and safety devices.
No CO2 is emitted when ammonia is combusted, and NYK Line suggests that zero emissions can be realised considering even the fuel life cycle of such a vessel by using CO2-free hydrogen (using renewable energy or gas or coal using carbon capture and storage) as a raw material for ammonia.
Design challenges include combusting ammonia stably, and since ammonia combustion generates nitrous oxide instead of CO2, controlling the combustion to prevent its generation and any discharge overboard.
The desire to prevent leakage of toxic ammonia and adequate safety measures in the event of leakage are also issues that have to be considered. Work to address the challenges involved NYK Line and IPS producing a design to install ammonia fuel-related equipment safely and practically in a limited space by developing an ammonia fuel engine, selecting equipment and devising the equipment layout in the tug's design. The companies involved say they have achieved the design of A-Tug that overcomes these challenges without changing the size of a conventional tug.
Soon after reporting the AiP, NYK announced the conclusion of a contract with Keihin Dock Co Ltd (an NYK Group company) to convert the tug Sakigake to ammonia-fuel specifications. The 37.2m LNG-fuelled ASD tug was built in 2015 by Keihin Dock and operates in Tokyo Bay. The target date for completion is 2024.