The Port of Genoa is set to be transformed with a massive €900 million investment that will allow a breakwater to be built 450 metres beyond the current barrier.
One of the world's deepest breakwaters, the project is said to be unique for its engineering complexity and scale.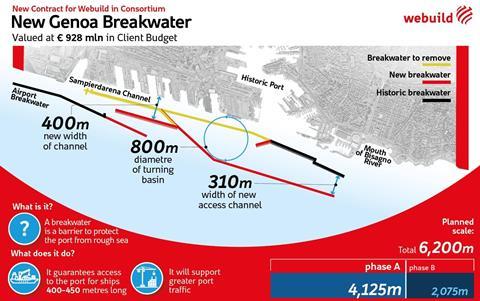 A consortium led by Italian construction engineer Webuild Group, which has a 40% stake in it, is building the breakwater offshore, leaving port activities uninterrupted while the works are carried out.
It will be done by first constructing an underwater foundation, 450 metres beyond the existing barrier, with varying depths of up to 50 metres and a length of 6.2 kilometres, comprising an estimated seven million tonnes of rock. Around 100 prefabricated caissons of reinforced concrete will be laid on the foundation, each 33 metres high by 35 metres wide and 67 metres long. The consortium says each caisson equals a 10-storey building.
The other members of the consortium awarded the contract include Fincantieri Infrastructure Opere Maritime, which specialises in port structures, coastal defence works and dredging. The company also operates in high-tech marine industry sectors as well as the construction and transformation of cruise, naval and oil and gas and wind offshore vessels. Fincantieri has a 25% stake in the consortium.
Two other civil engineering firms make up the four members of the consortium - Sidra and Fincosit.
Webuild Group would not give details of the equipment and construction techniques it would use to finish the project, apart from saying: "The infrastructure will be enhanced by innovative technology, construction techniques and sustainability characteristics together with the application of the principles of a circular economy, including the recovery re-use and transformation of excavated material."
Once the breakwater is complete, the Port of Genoa will be able to accommodate ships twice the size of those that already visit the port.
"Ordered by the Western Ligurian Sea Port Authority, the new breakwater will allow safe access to the port to container ships up to 400-450 metres long, double the size of those passing today, tailoring the Ligurian port to the requirements of the main shipping companies," said a statement by Fincantieri.
More details will be released next year, the consortium says.