The new CEO of the International Marine Contractors' Association, Iain Grainger, told Seawork attendees on Tuesday that if offshore wind is to have a future, consumers will inevitably have to foot the bill.
After a decade in which government subsidised new developments, followed by a decade in which the supply chain has effectively been subsidising it, there will be no other option but for consumers to pay more for their energy, he said.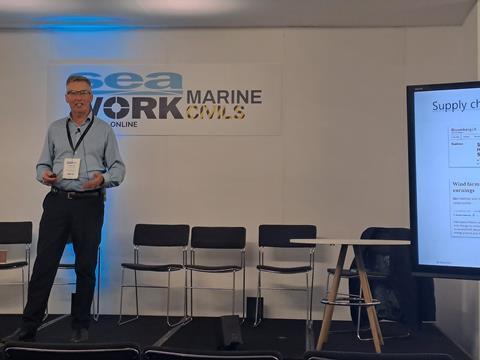 "We won't sustain it unless the supply chain starts making decent returns," he said. "Without reasonable profitability no one is going to invest. We are already seeing offshore wind projects being cancelled – in the US, a project by Shell and Ocean Winds will not now go ahead because it is no longer economically sustainable. The Hornsea 3 project is at risk, Orsted is asking for government support."
Quoting Bloomberg reports, he showed examples of companies like Saipem's profits were threatened by huge losses at the EDF wind farm off Scotland, he said, and Subsea7 had already issued a warning of a hit to earnings.
"The three OEMs – GE, Siemens-Gamesa and Vestas – collectively lost $4 billion last year. This is clearly unsustainable."
One of the causes was the moves by government to drive down the cost of energy to between £30 (€35) and £40 per kWh.
"The supply chain cannot supply the people and materials to build it while they are making losses," he said. "The further you go down the supply chain the worse it gets. When you get to the bottom, you're even betting your house on it."
Grainger said the only way to shore up the industry is to come together and agree to make changes – something he has been discussing with CEOs of the major players, who are on board, he said.
"Without action, projects will not go ahead," he said.