Cox Marine has formed a new OEM partnership to supply the CXO300 high-performance diesel outboard to European manufacturer XO Boats.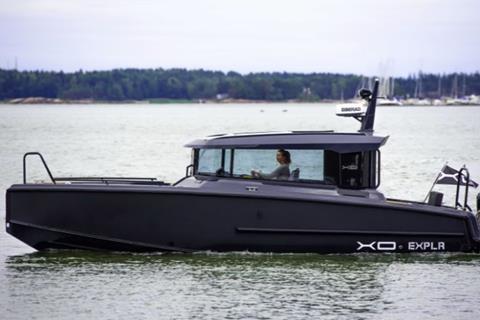 The CXO300 will initially be available on the EXPLR 9 model, the nine metre version of XO's premium weekend cruiser.
"At Cox Marine we are always excited to see customers using and enjoying the benefits of our CXO300, but the alignment with XO Boats is extraordinary because of the similarities in the brand's foundations and ambitions," said Harry Heasman, EMEA regional director, Cox Marine.
"We are very happy to be able to offer the Cox Marine customer integration with such a versatile and capable boat partner."
High-performance
Designed and built in Finland, XO Boats' EXPLR series combines a military-grade deep-V aluminium hull with a striking Scandinavian design.
It's the first in the range to offer the convenience of a high-performance outboard, with the strength and efficiency of diesel, more typically only found on larger vessels.
Offering reduced fuel consumption, extended maintenance intervals and the broadest range of approved fuels, the CXO300-powered EXPLR 9 is marketed towards adventure seekers looking to travel more sustainably.
"At XO, we are no stranger to innovative design solutions that enhance our customers' experience. Offering the CXO300 diesel outboard widens the potential market for XO as diesel fuel is more widely available in certain areas," said Erkki Talvela, CEO, XO Boat.
"The EXPLR 9 is designed for outboard power to achieve top performance and optimum onboard space. Cox's CXO300 offers the best of both worlds and we are excited to offer it as a choice for our customers."
Sweden-based Cox Marine distributor Diesel Power, whose territory includes Finland, has been integral in supporting the development of the new partnership.
With the agreement in place from the beginning of the 2023 marine season, new XO Boats are now available with the CXO300 diesel outboard from dealers worldwide.