Cox Marine's CXO300 engine has set the first diesel outboard world and national speed record, the company has announced.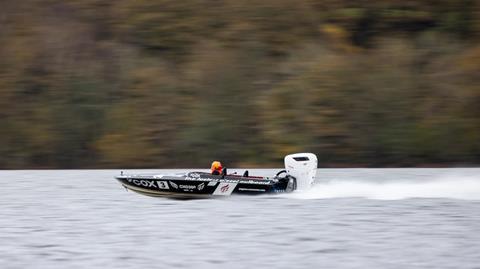 During the 50th Anniversary Speed Week held in Cumbria, UK, the firm's Pegasus surpassed the company's own previous speed records to win itself the title, achieving a speed of 62.27mph (54.11 knots) over a kilometre-long course that required a flying start.
Powerboat racer Adam Brown had to travel the course in both directions within an hour to minimise any potential wind advantage - with offiial Water Speed Record time keepers averaging the time over both runs.
"The CXO300 simply did everything it was supposed to," said Brown. "It was quiet, responsive, smooth and the overall experience was not the usual noisy seat-of-the-pants drama that a modified gasoline outboard record run often provides."
Designed on a blank sheet of paper for both commercial and recreational use, the 300hp CXO300 diesel outboard is a new generation of diesel technology. With up to 30% fuel savings, producing 30% fewer CO2 emissions and with 479 lb. ft torque, it is being touted as an eco-friendly propulsion option built for maximum speed.
The RIB was handed over to ABP in January and was the first Cox-powered boat supplied by Berthon to the port authority. Compared to a petrol outboard, the diesel CXO300 has a high stator output, enabling quick battery charging to easily run all the electrical and electronic equipment, including the complete Raymarine navigation suite, the ICOM communication and PA system and IRIS digital cameras.
"We wanted to demonstrate that power and performance can still be achieved without damaging our environment," said James Eatwell, head of Research and Development at Cox Marine. "It's one of the founding principles at Cox Marine and continues to drive our pursuit of innovation through technology today. We couldn't think of a better forum in which to emphasis this, than vying for a World Speed Record and simultaneously debuting the CXO300 use of HVO fuel."