One of the stars of the recent Seawork show was Asgard, a hybrid crew transfer vessel that marine engine maker Volvo Penta is calling the 'crew transfer vessel of the future'.
Designed, built and owned by MHO-Co and operated by Orsted in the North Sea, near Grimsby, Asgard is the twin ship of Apollo, which also operates there. Marine architect was Incat Crowther, and the vessels were built in Guangzhou, China, from where they sailed to Denmark last year.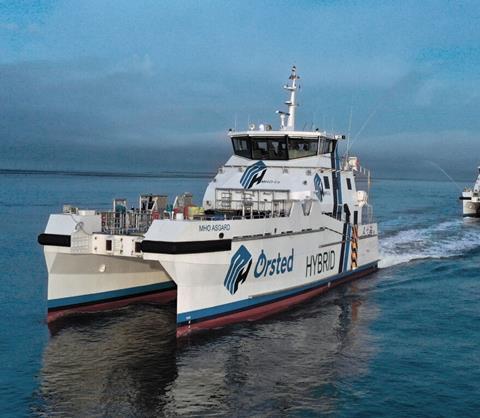 The 35m long CTVs have been built for the utmost comfort for crew, as well as fuel, emissions and noise reduction all enabled with the most up-to-date engines and propulsion systems from Volvo Penta and Danfoss Editron, says Volvo Penta. It is the first electric Volvo Penta IPS.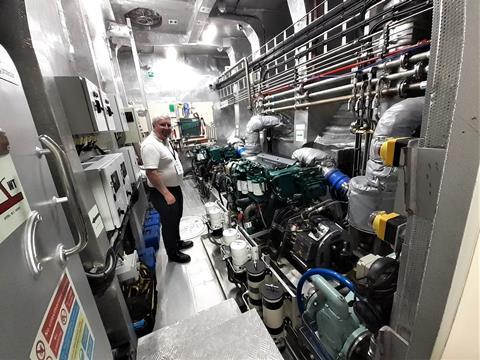 Delegates were given full access to the engine rooms, where Service Engineer Dave Goggin, who has worked for Volvo Penta for 14 years, showed them the four pods containing the two Volvo Penta D13 engines and Danfoss Editron propulsion motors, in turn powered by five D8 variable speed gensets, which charge the five 78kWh lithium batteries and also run the electric motors.
She also has a D5 generator for harbour operations, and the batteries power the ship when it's on standby or waiting for crew to come off the wind turbines, said Goggin.
The engine can run on electric mode for up to eight hours at 4-5 knots, and the vessel has the ability to switch between engines instantly – improving efficiency and noise levels.
She can travel at 24 knots, and in total weighs 66 tonnes – which includes fuel capacity of 10,000 litres.
"Success on the ocean has forever depended on experience and innovation – two key elements in the partnership between Volvo Penta and Danfoss Editron," says Volvo Penta. "Together we're setting a course towards electromobility at sea."
The company claims that Asgard and Apollo will each save up to 127 tonnes of CO2 over their working lives.