Damen is providing a range of components for two new pusher tug-barge combinations described as a "rare collaboration" producing the first complete inland vessels built in the Netherlands for a long time.
Damen Marine Components (DMC) produces a range of ancillary components for newbuild vessels and this notable order involves components for client Den Breejen Shipyard from Hardinxveld-Giessendam, which is building the two pusher tug-barge combinations on behalf of Rhenus PartnerShip GmbH & Co. KG in Duisburg.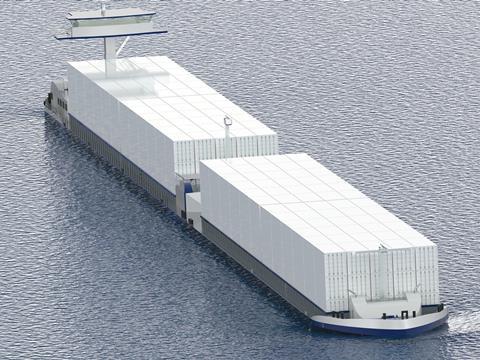 The package includes FLEX Tunnels, the retractable tunnel system described as "significantly increasing efficiency and versatility of ships", along with complete six-rudder systems and bow-mounted Rotor Manoeuvring Systems (RMS) for the two combinations. Damen says RMS guarantees course stability even in shallow waters and strong crosswinds, adding that inland shipping's interest in the system has "grown strongly" in recent years with the low water levels being experienced on inland rivers and waterways.
FLEX Tunnels are retracted and embedded into the hull when the barge is loaded, allowing unobstructed water flow to the propeller. When at shallow draught the propellers are not fully immersed, resulting in high resistance and low velocity. FLEX Tunnels are then deployed, guaranteeing water inflow to the propeller, allowing the vessel to sail longer in shallow water and/or take more cargo.
DMC will design, manufacture and install the complete package, including associated hydraulics and controls. It will also supply two Optima nozzles, two high-efficiency propellers, two drive systems to simultaneously synchronise six rudders (three for each rudder) and a SP2700 control system.
DMC has equipped ships with FLEX Tunnels before, the very first being Rhenus Duisburg 10 years ago, still in operation without any problems. It is however the first order from Rhenus for Den Breejen Shipyard.
"We're an all-round shipyard, but we have never built a ship like this for Rhenus PartnerShip before, so we're very happy with this collaboration," said Commercial Manager Ben de Rooy.
Rhenus PartnerShip says it intends to make ground-breaking progress with sustainability and safety, making use of all innovations.
The hull design was developed by maritime research centre DST (Development Centre for Ship Technology and Transport Systems) in Duisburg with the first ship expected to be commissioned by Rhenus in October 2023 and the second in February 2024.