A Memorandum of Understanding has been signed among major boat and engine designers to look at methanol as a vessel fuel.
The MoU was signed among Damen, Caterpillar and Cat dealer Pon Power to develop methanol-powered vessels along with bunkering, storage, management and conversion aspects.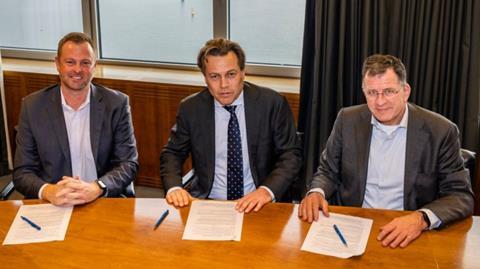 Caterpillar and Pon Power will develop the methanol power train to be integrated into a Damen-designed and built methanol-capable vessel, the MoU says.
"We're delighted to be working with Caterpillar on this ground-breaking project. It is of mutual benefit to all the parties involved to begin operating the pilot engines as soon as possible, so that we can experience what it means to use methanol as a fuel in a maritime environment," said Joost Mathôt, Director of Products at Damen's Workboats division. "For Damen, the introduction of methanol-fueled propulsion systems is the logical next step in our drive towards low-emission propulsion right across our product range and an integral part of our drive to become the world's most sustainable shipbuilder."