"It's not a boy, it's not a girl, it's not pink, it's not blue - it's electric," is how commercial director Jeroen van Woerkum introduced Damen's 'new baby' at Seawork on Tuesday.
Unveiling a model of the Multi Cat 1908 Electric multi-purpose workboat, commercial manager Jeroen van Woerkum said the vessel 'combines heritage with innovation', and boosts maritime's sustainability while drawing on 25 years of Damen's Multi Cat designs.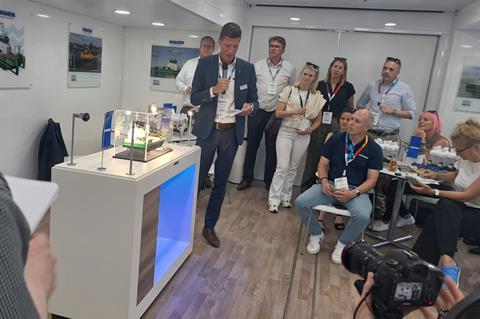 "Lots of marine construction aquaculture, oil recovery, anchor handling, buoy recovery - there are many close-to-shore applications for this vessel," he said. "It's a no-brainer to use a fully electric vessel up to 20 nautical miles from shore."
The MuC 1908 E can run for 12 hours on one battery charge, the company claims, and have a life expectancy of around 10 years.
Building the vessel will begin at the end of the year and because of the battery technology it is expected to take about 18 months. At the moment there are no plans to build any more.
Damen is also looking at providing other equipment, such as onshore charging capability, and has Damen's Triton vessel platform on board.
Separately, Damen announced it had signed a partnership agreement with Baltic Workboats for a crew transfer vessel building programme.
The Fast Crew Supplier 2710s will be built at Saaremaa Island in Estonia.
"With the Baltic Sea joining the North Sea as an area of rapid expansion for the offshore wind industry, building these highly rated CTVs in the region increases availability to both the Baltic region and other European markets. It also brings Damen closer to its customers in North-Eastern Europe," says the company.