Proteum, the UK distributor for OXE Diesel outboards, will supply a pair of OXE 300 engines to Commercial RIB Charter for its new amphibious offshore support vessel.
The fully amphibious vessel for support in offshore windfarm operations has been designed by Chartwell Marine and is being built by Diverse Marine.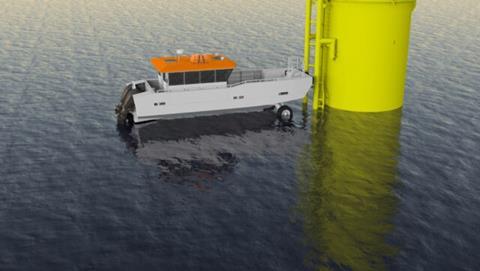 OXE 300hp Diesel outboards were chosen for their robust design and ability for the operator to shift quickly from forward to astern without damaging the commercially rated gearbox. They also provide increased range and market-leading fuel economy.
The vessel's innovative design includes hydraulically operated wheels to make her fully amphibious and capable of operating in extremely shallow waters. She will service turbines at RWE's Scroby Sands Windfarm on the East Coast of England and is due for delivery in late August.
OXE is the world's first high-performance diesel outboard built for commercial users and is making significant market penetration worldwide due to the rugged, robust and reliable design. They are available in 150hp, 175hp, 200hp and 300hp options.
The OXE 300 selected here is a twin turbo configuration that provides its full 680Nm of torque at the crankshaft at just 1750rpm, at 1000rpm the engine provides over 500Nm at the crankshaft.
To meet commercial customer demands for companies like Commercial RIB Charter the OXE Diesel has been designed with ease of maintenance and service in mind. All service points for daily maintenance checks are in the front of the engine to make service and maintenance easy and straight forward, even in the harshest of conditions.
Based on performance tests, the OXE 300 consumes up to 40% less fuel compared to a 300hp petrol outboard. Carbon dioxide emissions are reduced by more than 35%, carbon monoxide by more than 99% and combined hydrocarbons and NOx by more than 70%. The reduced fuel consumption and increased efficiency also increase the operational range by 60%.
The primary customers for the OXE 300 are government, transport, search and rescue, marine energy and other applications with high load and speed demands.