Diverse Marine announced it will build two more hybrid CTVs for High Speed Transfers at Seawork.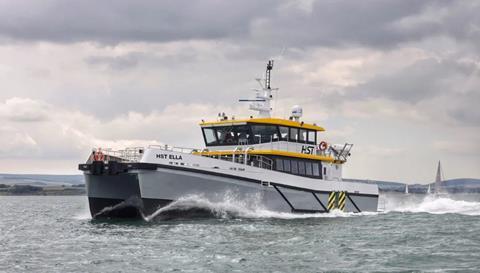 The two Chartwell Marine Ambitious Class CTVs are scheduled to be delivered to the operator later this year.
"The two new CTVs were secured on the back of success in the field of HST Ella, which was delivered last year. With its advanced hull form and its use of Hydrotreated Vegetable Oil as a fuel, the vessel was a market first for a newbuild CTV," Ben Colman, director Diverse Marine, told MJ at Seawork.
Opportunities abound
Colman told MJ that Diverse is "committed to hybrid going forward, despite the challenges surrounding battery supplies and certification at the moment".
He said that rewards are there for builders and designers of innovative craft that meet legislative requirements, whilst reducing vessel emissions and fuel consumption.
The two new Diverse-.built vessels, to be named HST Frances and HST Millie, are developed sisters of HST Ella that incorporate subtle improvements to foredeck capacity and wheelhouse visibility, following Ella's deployment on multiple European projects over the last few months.
The catamaran's hybrid propulsion system incorporates an electric motor alongside a diesel engine, which drives a high-performance changeable pitch propeller (CPP) system.
At low speeds, such as port departure and arrival or whilst loitering in the windfarm zone, this allows for silent, zero emissions operation, enabling the vessel to comply with port air quality requirements.
At transit speeds, it can perform capably and efficiently while ensuring the comfort of technicians. The Chartwell Marine hull form with high bollard push and superior bow height ensures confident transfer at high wave heights.
Colman told MJ that it's not just hybrid innovation transitioning the offshore craft sector into the future.
Four out of five Diverse vessels, he said, now incorporate automation in some shape or form.
Just this month, Diverse struck an agreement with Nauticus Robotics, a Houston USA developer of offshore subsea and surface robots and autonomy software, to construct the initial production run of its Hydronaut vessel for its Nauticus Fleet, a robotic navy consisting of 20 Hydronaut vessels.
The 18m Hydronaut's primary objective will be to support the launch, recovery and real time operations of Aquanaut, its undersea robotic counterpart. Hydronaut will ferry Aquanaut to and from the worksite and supports battery recharges, as well as the communications link from the local remote operations center for supervised autonomous operations.
Production and delivery of the first two Hydronaut vessels is scheduled for the first quarter of 2023, with the remainder being fulfilled by the end of 2024.