A 'sustainable as possible' Dutch research vessel has been launched to join the national sea research fleet.
A new research boat has been added to the Dutch national research fleet and christened RV Adriaen Coenen.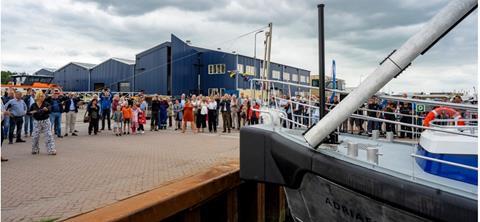 The research vessel was built at NG Shipyards in Lauwersoog, in The Netherlands, and once tested it will be put to sea for the Royal Netherlands Institute for Sea Research (NIOZ), which is trying to replace two larger research ships it manages as part of the national research fleet.
At 19 metres, the RV Adriaen Coenen will be the smallest ship in the fleet, with capacity for 12 passengers and two crew.
Despite its smaller size, the vessel is equipped with wet and dry laboratories, ICT (information and communication technology) infrastructure, cranes, a spacious working deck with room for two rubber boats or a 10ft container.
"It is a quiet ship, which is very pleasant for crew, researchers and the environment," said skipper Wim Jan Boon. "Because the computer automatically keeps the ship in the desired position during research, I can work more efficiently."
The vessel has been designed with a huge focus on sustainability, and it is powered by HVO, which means 90% less CO2 is emitted, says Feico Hoogeveen, from NAVIS Naval Management & Consultancy, who supervised the build.
"When combined with particle filters and a catalytic converter, the system is at least equivalent to the emissions reduction achieved by using methanol," he says. "And the AdBlue system fitted to the exhaust also provides a significant reduction in nitrogen emissions. All of the installations were designed to use as little energy as possible. The coolant water system, for example, includes a thermal transfer unit.
"The LED lighting is controlled by movement sensors and powered by solar panels. The vessel is also fitted with as much thermal insulation as possible to keep energy consumption for heating to a minimum."
The hull, he said, was designed with computational fluid dynamics to optimise its hydrodynamic characteristics.
"The propulsion system uses hydrojets to allow the vessel to operate in shallow water and to beach itself without causing damage to the propellers," he said.
NG Shipyards Director Albert Keizer also said the vessel was built using solar energy.