Norwegian inspection ROV manufacturer Blueye Robotics hit the media stratosphere earlier this month when its prosumer subsea X3 drone captured the first published video of the explosion damaged Nord Stream 1 gas pipeline, writes Jake Frith
By invitation of the Swedish newspaper Expressen, Blueye Robotics joined a mission on Monday 17 October, to capture the first public footage of the damaged Nord Stream 1, which, along with closely positioned Nord Stream 2, suffered severe damage on 26 September.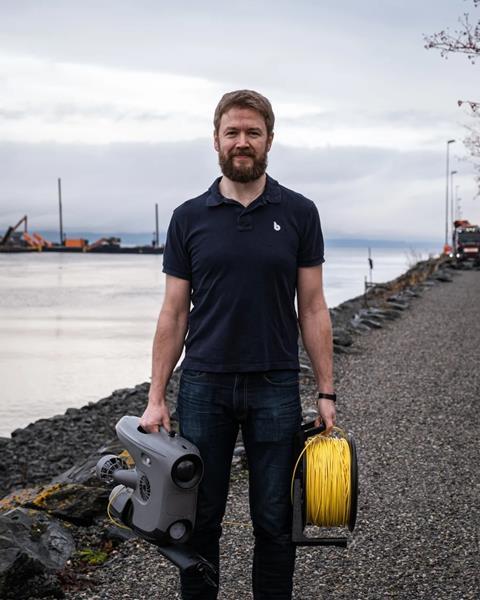 Bad actors
Four gas pipeline leaks were reported near the Danish island of Bornholm, two in Denmark's economic zone, two in Sweden's. A preliminary investigation has established the Danish leaks were caused by 'powerful explosions', Copenhagen police have said in a statement.
Due to the war in Ukraine and ongoing tensions between Russia and NATO, particularly exacerbated by the threat of possible European gas supply issues this winter, several European politicians have been quick to pin the blame on Russia. While it's pretty clear that such explosive ruptures will have been caused by 'bad actors' of some description, pinning definitive blame on acts of underwater sabotage is likely to prove extremely difficult in this new world of false flag operations and asymmetric warfare.
This situation has left the Nord Stream leaks a frustrating story with huge international interest but little in the way of answers for a European populace hungry for news as the conflict in Ukraine risks spilling over into NATO states.
Quick capture
Hoping to add a little light to this heat, Blueye Robotics, with their technical sales engineer Trond Larsen as ROV pilot, accompanied by two reporters from Expressen, headed out in harsh weather in a Targa 29 on a mission to obtain publishable footage of some of the damage. After about two hours at sea, arriving at the dive site and diving with the ROV, the Nord Stream 1 pipeline appeared on the smartphone screen controlling the Blueye X3. Trond was then able to find the 50m long rupture in the pipeline and managed to capture clear footage of damage commensurate with an explosive attack.
Commenting on the damage to the concrete armoured steel pipe, Larsen said: "It is only an extreme force that can bend metal that thick in the way we are seeing."
One of the unique selling points of all Blueye's ROVs is that they are highly intuitive and user friendly; a point that the company have been quick to capitalise on in the Nord Stream deployment.
"We are truly honoured to be part of capturing such important and informative information for the public," said Christian Gabrielsen, CEO of Blueye Robotics. "While there is no doubt that Trond Larsen is an experienced ROV pilot, the capabilities of this powerful and user-friendly ROV really demonstrates how easy it is to get visuals of critical assets below the surface."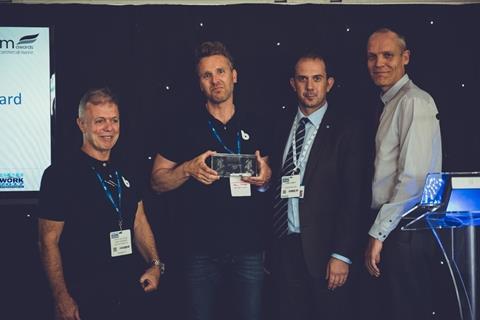 Blueye Robotics first got on our radar here at Maritime Journal when its launch model, the Blueye Pioneer won the overall Innovation category award in the European Commercial Maritime Awards (ECMAs) awarded at Seawork in June 2017. The ECMAs judging panel were united in their excitement over the Blueye Pioneer, with the then MJ Editor and ECMA judging panel Chairman Jake Frith saying: "This clever device could pay for itself with just one saved commercial diving day."
Technology has moved on apace at Blueye with the Nordstream video captured using its visually similar but higher performing X3 model aimed at semi-professional and professional users.
Under 50cm long, the tethered vehicle can be considered an 'underwater drone' but one that is up to the task of serious commercial usage, according to Oda Ryggen, Chief Commercial Officer at Blueye Robotics: "The new Blueye X3 is a neat and handy vehicle with mighty capabilities. Four 350W thrusters power the vehicle at up to three knots underwater. The X3 has up to five hours range and is fitted with three guest ports supporting eight communication protocols. The ROV's abilities can hence be extended with a wide range of external equipment including sensors, manipulators, grippers, DVLs, altimeters and sonars."
With the launch of the commercially very capable X3, the company remains true to its original ethos, expressed by Ryggen: "We believe millions could be saved, accidents reduced, marine life improved, and knowledge enhanced if underwater inspections were made more frequently. We believe in acting proactively versus reactively. Therefore, we want to empower people with user-friendly and robust underwater technology." The Blueye-captured subsea video was published at BBC, CNN, Expressen, VG, and The Guardian, among others.