Sanmar Shipyards has secured orders for three Robert Allan Ltd (RAL) designed battery-powered tugs for operators in Canada and Norway.
All-electric tugs may be suited for specific situations but the possibility of emissions-free operations, which historically has been far from the case, is an attractive proposition, particularly in built-up urban areas. RAL and Sanmar will no doubt see these orders for the ElectRA range as further positive signs for the concept's prospects.
Two ElectRA 2300-SX variants have been ordered by SAAM Towage Canada for operation in Vancouver British Columbia, specific requirements including a large battery capacity due to short periods between missions, quick recharging capabilities, high bollard pull figure and from a practical angle a tug of compact dimensions due to space between the port's finger piers.
With battery capacity of 3,616kWh, vessel length 23m and the ability to deliver 70tbp for up to an hour, the model selected was seen as being the optimum solution.
While accommodation is provided for four people, SAAM will typically crew the tugs with just two mariners as typical for its Vancouver operations.
Of interest is RAL's comment: "Perhaps one of the most exciting features of all is that unlike with a conventional diesel tug, the ElectRA 2300-SX's performance has the potential to significantly improve over its service life. By leveraging anticipated future improvements in battery density by occasionally refreshing battery cells, ElectRA series tugs may prove to be some of the longest tenured assets in future fleets."
Oslo returning customer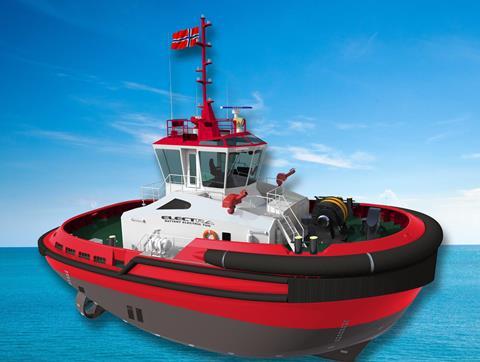 Buksér og Berging is Sanmar's next ElectRA customer to mention, in this case the slightly smaller ElectRA 2200-SX variant for operation in Port of Oslo.
The client is a returning customer for Sanmar, which has previously delivered seven tugs to the Norwegian tug owner including in 2014/15 the world's first purely LNG-powered tugs Borgoy and Bokn.
The 22.4m LOA, 10.84m beam, 45tbp ElectRA tugs will be powered by 1,718kW batteries driving Schottel thrusters via two 1,400kW electric motors.
DMT will supply a foredeck towing winch, Palfinger will provide a deck crane with a tow hook and rope reel supplied by Data Hidrolik.
All three vessels mentioned here are due for delivery in 2023 and MJ hopes to examine these interesting tugs in more detail in due course.