Torqeedo was at Seawork to tout the benefits of electric propulsion to the commercial marine sector.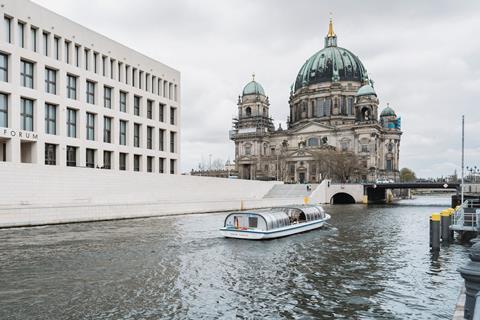 The electric boat manufacturer said that there was a lot of energy and excitement at Seawork about electrification and alternative fuels this year.
"And why not? Electric workboats often offer a lower total cost of ownership, an improved working environment and are environmentally superior, especially over the duty cycles required in professional applications," Isabel Jeschek, senior manager project sales, told Maritime Journal.
Developing segments
Ms Jeschek told MJ that the company is seeing demand increase for several quickly developing workboat segments where full electrification makes sense, or electric can replace fossil fuel for part of the workday.
This includes plenty of interest in battery-electric or hybrid-electric vessels for wind farm support, aquafarms, trash removal and autonomous vessels.
Torqeedo offers electrically integrated systems for every boat from kayaks and dinghies through to motorboats, ferries and yachts.
The company points out that electric motors can achieve the same propulsive power as combustion engines with a significantly lower shaft power because of the different torque curves they produce.
There are other benefits too. Although charging batteries takes time, electric vessel owners can just plug in in at the end of the day, there is no need to find a fuel station or carry cans of fuel down the dock.
Owners of Torqeedo Travel or Ultralight systems can charge on board via a 12/24 V supply or the Sunfold 50 solar panel, or bring the lightweight, portable lithium battery home to charge it using the mains charger that is supplied. Cruise and Deep Blue-powered boats plug in to shore power and charge overnight.
If faster charging is needed, the high-capacity batteries from these systems can also be equipped with fast chargers or multiple chargers.
New for 2022, Torqeedo has upgraded its Cruise 3.0 and 6.0 e-motors featuring 50% more power for sailboats, motorboats and commercial applications up to 12 tonnes. The e-motors have also been upgraded to include optimised helical gears.
Torqeedo has a number of new projects on the go including a collaboration with Proton Motor Fuel Cell GmbH to integrate hydrogen fuel cell charging into Torqeedo propulsion systems.
The two Bavaria-based companies are working together on an innovative marine hydrogen hybrid building kit integrating Torqeedo's existing Deep Blue battery-electric drive systems and Proton Motor's advanced fuel cell technology.
Recent commercial contracts for Torqeedo include Oranje Nassau, a 20 metre water taxi operating on Berlin's urban waterways, which recently swapped its diesel engine for a fully integrated Torqeedo Deep Blue 50i electric drive.