Ship maintenance firm Hydrex repaired damage caused by Storm Eunice in record time.
Belgian underwater maintenance and repair services firm Hydrex has released details of an emergency repair it had to make on the vertical side of a ferry damaged by storm Eunice earlier this year, without a dry dock.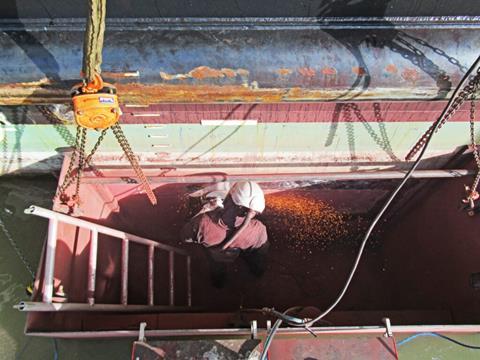 Vessel owner TESCO called the firm in to fix storm damage on the hull of the Texelstroom, which carries passengers from Den Helder on the Dutch mainland and Texel, the largest of five Dutch Wadden Sea islands that are classed as a UNESCO World Heritage site.
Hydrex immediately built a cofferdam at its fast response centre in Antwerp and ordered certified steel for the new insert plate.
Two days later the team arrived at the port of Texel with the cofferdam and equipment to inspect the damaged hull and agreed on installing the plate.
This was carried out inside the cofferdam, while the ship was afloat, approved by the classification society as permanent, and finished a further two days later with a successful leak test.
"The teams worked in shifts around the clock, which allowed us to complete the actual repair in just two days," said Hydrex, and Texelstroom was immediately put back to work.
In April, Hydrex carried out an underwater stern tube seal repair on a container ship berthed at Algeciras, Spain.
The ship had an oil leak, so using a flexible mobdock, Hydrex carried out the entire repair on site and underwater, obviating the need and expense of going to a drydock.